Judge Critical of Sex-Offender Registry Confirmed to Massachusetts High Court
Critics had argued that Kimberly Budd's criticism of sex-offender registries "render her unfit to serve as a justice."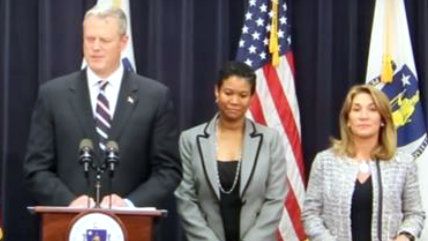 Making a mild criticism of sex offender registries looked like it could have hurt a Massachusetts judge in her bid to serve on the state's Supreme Judicial Court. But on Wednesday the Governor's Council, an eight-member elected body responsible for approving judicial nominees, voted unanimously in favor of Superior Court Judge Kimberly Budd's nomination to serve as an associate justice.
During a grilling by the Governor's Council last week, Budd had said the state Sex Offender Registry is too expansive, ensnaring people who are far from a threat to anyone. She added that this opinion stemmed not from her "professional experience, but just hearing about people who wind up on the registry that don't necessarily need to be there and aren't really sex offenders."
As anyone who reads Reason editor Jacob Sullum or "Free Range Kids" empress Lenore Skenazy on this topic knows, Budd's is an entirely accurate statement. While registry rules vary from state to state, a growing array of offenses can land someone on the registry, leaving all sorts of non-predators on a list that people think of and lawmakers treat like a compendium of rapists and child molesters.
Budd stopped short of criticizing the registry more broadly, although the logical foundations of the registry as a whole are shaky, as there's scant evidence that perpetrators of sex crimes are more likely to re-offend than other types of offenders. Still, even the judge's suggestion that we should purge people who "aren't really sex offenders" from the list drew loud objections from some.
Going with the government-fellating, tautological tack, Rep. Shaunna O'Connell (R-Taunton) argued that "if you are on the Sex Offender Registry, you have committed a sex crime," and "it is imperative that we have justices that will defend and protect the registry." Budd's statements, said O'Connell, "render her unfit to serve as a justice." She took to talk radio and her own online platforms urging Massachusetts residents to write Governor's Council members and encourage them to reject Budd's nomination.
"The public has a right to know what dangerous sex offenders live and work in their communities," continued O'Connell, missing or intentionally obscuring Judge Budd's whole point: that the registry, in its current manifestation, represents nothing like a list of "dangerous sex offenders."
But Gov. Charlie Baker, who had nominated Budd (along with recently-approved Justices Frank Gaziano and David Lowy) to serve on the state's high court, defended Budd Tuesday. The Republican govenor said Budd would make a "terrific" justice who understands it's a judge's role to interpret the law, not legislate from the bench.