For Republicans, a Vote for Trump Is a Wasted Vote
Not voting for a conservative at all.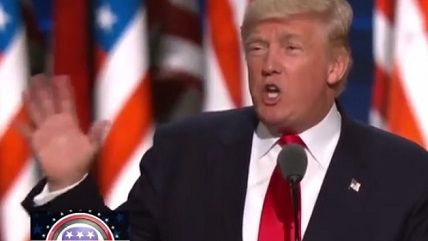 Hordes of Republicans are rending their garments over their presidential nominee, and more than a few of them have begun to consider whether they should vote for Gary Johnson, the Libertarian candidate—or just stay home.
There is much to commend Johnson, who was twice elected governor of New Mexico as a Republican. But many Republicans who might have been glad to support him if he were in Trump's place are leery of voting for a third-party candidate because they do not want to waste their vote.
To that, Johnson has a ready answer: You're only wasting your vote if you cast it for someone you don't believe in. But there's another answer, too: For conservative Republicans, a vote for Donald Trump is also a wasted vote.
Why? Two reasons.
First, Trump is not a conservative. He changes positions on abortion more often than he changes his socks. The same goes for gun rights. And many other issues. He opposes free trade. He recently suggested he might abandon NATO allies to Russian aggression. He knows nothing about the Constitution—and cares even less.
For years, conservative activists have insisted that GOP candidates like Mitt Romney and John McCain lose elections because they are not conservative enough. Yet compared to Trump, Romney and McCain are Barry Goldwater and William F. Buckley rolled into one. Not only is a Trump administration unlikely to press conservative priorities with any consistency, it seems likely in some cases to push strenuously against them.
"But what about the Supreme Court?" Trump supporters ask. "Hillary Clinton will appoint liberals; say what you will about Trump, at least he will appoint conservatives." Will he? He released a list of some nominees he might consider. Big deal, and good luck holding him to it. Trump is the only figure in public life who lies more often and more brazenly than Clinton does. Why should anyone put credence in a list?
The second reason a Trump vote is a wasted vote is neatly summarized by something Soviet dissident Vladimir Bukovsky wrote more than a decade ago, about torture: "Investigation is a subtle process, requiring patience and fine analytical ability, as well as a skill in cultivating one's sources. When torture is condoned, these rare talented people leave the service, having been outstripped by less gifted colleagues with their quick-fix methods, and the service itself degenerates into a playground for sadists. Thus, in its heyday, Joseph Stalin's notorious NKVD (the Soviet secret police) became nothing more than an army of butchers terrorizing the whole country but incapable of solving the simplest of crimes."
It is quite apparent that the leading intellectual lights of conservatism will have nothing to do with a Trump administration, should one materialize. Already, many conservatives—George Will, Bill Kristol, Jeb Bush, John Kasich, Max Boot, Brent Bozell, Eliot Cohen, Robert Kagan, the entire staff of National Review, Rep. Justin Amash, Rep. Floyd Flake, Sen. Mark Kirk, Sen. Ben Sasse, Peter Wehner, Yuval Levin, and too many others to name—have signaled their unalterable opposition to Trump. They want nothing to do with him now or ever.
In fact, so few movement conservatives want anything to do with him that, as The New York Times reported in March, "When Donald J. Trump finally began to reveal the names of his foreign policy advisers during a swing through Washington this week, the Republican foreign policy establishment looked at them and had a pretty universal reaction: Who?"
"Many of us who have held senior positions in previous Republican administrations have been asking each other if we have ever heard of them," said Mike Green, who served on the National Security Council in the second Bush administration. "And pretty much everybody is turning to Google to see what they can find."
Inter alia, they found that one of Trump's chief foreign-policy advisers lists among his accomplishments his participation in a Model United Nations. In 2012. The other day Trump announced his economic advisers, who were likewise obscure.
This is precisely the dynamic Bukovsky wrote about. With few if any serious policy scholars or principled conservatives willing to work for it, a Trump administration would end up populated by unscrupulous climbers, craven lickspittles and incompetent hacks—the sort of myrmidons who wouldn't know Isaiah Berlin from Irving, or Russell Kirk from Captain. The White House would be Tammany Hall without the dignity. And on the rare occasions when the Executive Branch pursued conservative policies, it would look like a platypus trying to play the flute.
Such a kakistocracy would be horrible—perhaps even disastrous—for the country.
As far as Republicans are concerned, it also would be horrible for their cause. A Trump administration would tarnish the name of conservatism and shame the GOP with ceaseless scandal. It would achieve little if anything from the book of conservative priorities—and what little it did achieve would scarcely be worth the cost.
The dwindling cohort of pro-Trump Republicans have been asking what good could come if they don't support him. They should be asking what possible good could come if they do.
This column originally appeared at the Richmond Times-Dispatch.