Political Correctness: UW-Stout Censors 'Harmful' Native American Murals
Diversity Team complains that historical depictions are racist and offensive, even when they're not.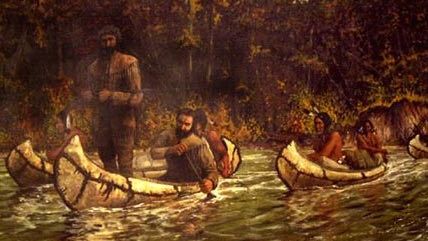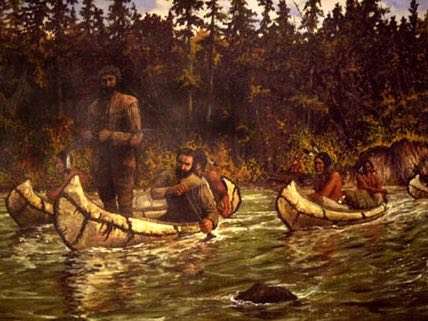 The University of Wisconsin-Stout has removed two historic murals from their places of prominence after members of the Diversity Leadership Team complained that they might make Native American students feel uncomfortable.
It's hard to see why. Both murals are rather innocuous. One depicts fur trappers and Native Americans canoeing down a river. The other depicts an American fortress from colonial times. There's no violence depicted in the works of art. Indeed, the white traders and natives seem to be getting along perfectly well.
Ah, but the murals could theoretically be offensive to someone, so they have to go.
"There's a segment of Native American students, that when they look at the art, to them it symbolizes an era of their history where land and possessions were taken away from them, and they feel bad when they look at them," said UW-Stout Chancellor Bob Meyer in an interview with NPR. He did not immediately respond to a request for comment.
Meyer is right, of course, to note that Native Americans were victimized by white settlers. But we can't change that by pretending it never happened—by censoring history. A public university has a responsibility—an obligation, even—to explore the truth, not shield its students from it. Grappling with the imperfect and the unsavory aspects of American history is a necessary way of studying it.
I would understand, I suppose, if students were bothered by a mural that, say, depicted an extremely bloody battle between settlers and Native Americans. But these murals show nothing of the sort. The trappers and the Native Americans seem to be getting along perfectly well in at least one of them. Why is this offensive?
One gets the feeling that any depiction of Native Americans would be deemed problematic by UW-Stout's administration. Ironically, the university is apparently caving to the wishes of the campus's Diversity Leadership Team, which objected to the paintings on grounds that they were "harmful" and perpetuate racial stereotypes, according to The Daily Caller.
Again, the murals do nothing of the sort.
"American history and representations of that history can be ugly and offensive," said UW-Stout English and philosophy professor Timothy Shiell. "But hiding them doesn't change the past or the future."
The university plans to move the murals to different locations on campus, where the risk of them being seen by actual students isn't as large.