Missouri's Lead Public Defender Assigns Governor to Case in Protest of Budget Cuts
Under a law giving him power to appoint lawyers, Missouri's lead public defender chose the governor to represent a poor client.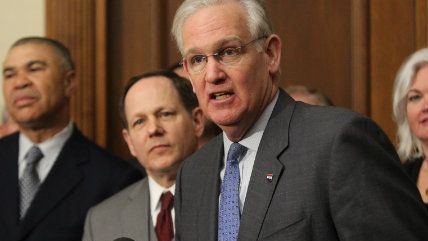 (BILL GREENBLATT/UPI/Newscom)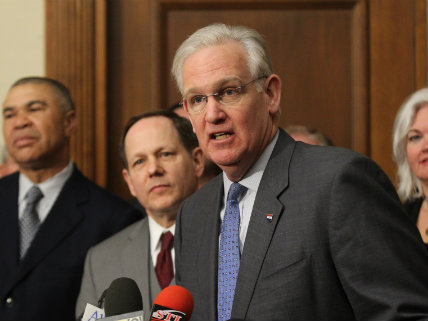 Missouri's lead public defender ordered Missouri Gov. Jay Nixon to represent a poor client in court, saying Nixon was responsible for ruinous budget cuts that have left the state's public defender system incapable of performing its duties.
Citing a state law that gives his office the power to "delegate the legal representation of any person to any member of the state bar of Missouri," Missouri State Public Defender System Director Michael Barrett assigned Nixon, a barred attorney, to defend a poor person in court in a letter released Wednesday.
"As of yet, I have not utilized this provision because it is my sincere belief that it is wrong to reassign an obligation placed on the state by the 6th and 14th Amendments to private attorneys who have in no way contributed to the current crisis," Barrett wrote. "However, given the extraordinary circumstances that compel me to entertain any and all avenues for relief, it strikes me that I should begin with the one attorney in the state who not only created this problem, but is in a unique position to address it."
Barrett said Nixon has repeatedly slashed the budget for indigent defense in Missouri. In July, the Missouri public defender system sued Nixon for withholding $3.5 million of a $4.5 million funding increase.
"This action comes even after the Civil Rights Division of the Department of Justice found that poor black children are being systematically deprived of their rights in Missouri due in large part to the lack of public defenders," Barrett continued. "Choosing in the wake of that report to further debilitate the very organization that ensures an equal system of justice only adds to the escalating sentiment that the poor and disenfranchised do not receive a fair shake in Missouri's criminal justice system."
A 2014 study by the American Bar Association found Missouri public defenders were overworked and spread too thin on too many cases, and Barrett estimated the state would need 289 more attorneys to meet the hours-per-case guidelines recommended by the ABA.
Instead, Barrett told the St. Louis Post-Dispatch the public defender system has 30 fewer attorneys than when the study took place, due to lack of funds. The Missouri public defender system's caseload has increased to about 82,000 cases this year, a 12 percent increase over the previous year, Barrett said.
Nixon's office did not immediately respond to a request for comment.