Trump on His Spat With Parents of Slain Muslim Soldier: 'I Have No Regrets'
Although Khizr Khan "has no right" to question Trump's constitutional fidelity, Trump has "a right to defend himself."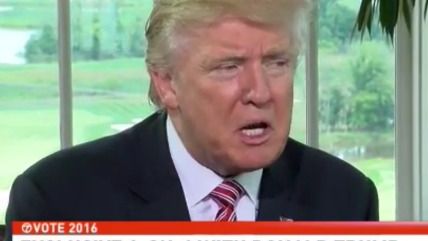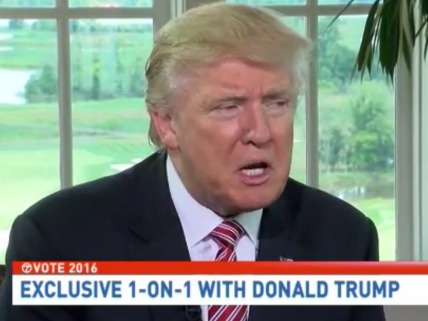 Donald Trump's advisers reportedly have urged him to drop his politically damaging spat with Khizr and Ghazala Khan, the parents of a Muslim soldier killed in Iraq, and focus on attacking Hillary Clinton. But as with previous comments that provoked bipartisan criticism, Trump seems constitutionally incapable of admitting he was wrong or even moving on to another subject.
"I don't regret anything," the Republican presidential nominee told WJLA, the ABC affiliate in Washington, D.C., yesterday. "I said nice things about the son, and I feel that very strongly, but of course I was hit very hard from the stage, and you know, it's just one of those things. But no, I don't regret anything."
Not even suggesting that Ghazala Khan, who said she did not speak at the Democratic National Convention last week because she did not think she could maintain her composure while discussing her dead son, had been muzzled by a domineering Muslim husband? No, not even that.
The New York Times reports that an internal Trump campaign memo instructs his proxies to "express gratitude for the Khans' sacrifice" but adds that Trump has a "right to defend himself." No one denies that Trump has a right to respond to criticism, just as other people have a right to criticize that response. Trump, who thinks Khizr Khan "has no right" to question his respect for the Constitution, seems genuinely baffled by the idea that freedom of speech is a two-way street.
It is fair to say that Khan "hit [Trump] very hard" in his convention speech, although whether he attacked Trump "viciously" (as the candidate also has claimed) is a matter of perspective. Trump, who routinely engages in ad hominem attacks, seems to view any criticism of him as vicious. In any case, here is what Khan said:
Donald Trump consistently smears the character of Muslims. He disrespects other minorities; women; judges; even his own party leadership.

He vows to build walls, and ban us from this country. Donald Trump, you're asking Americans to trust you with their future.

Let me ask you: Have you even read the United States constitution? I will gladly lend you my copy. In this document, look for the words liberty and equal protection of law.

Have you ever been to Arlington Cemetery? Go look at the graves of brave patriots who died defending the United States of America.

You will see all faiths, genders and ethnicities. You have sacrificed nothing and no one.
This harsh criticism, especially the fully justified suggestion that Trump is constitutionally illiterate, obviously rankled him. But instead of responding substantively by defending his policy proposals or highlighting Hillary Clinton's support for the "dumb war" (as Barack Obama called it) that killed Khan's son, Trump irrelevantly and recklessly speculated about the reason for Ghazala Khan's silence at the convention. The stereotype-evoking suggestion that she "wasn't allowed to have anything to say" was not exactly a persuasive rebuttal of Khizr Khan's complaint that Trump "consistently smears the character of Muslims." Nor did it address Khan's other points.
Some of the Republicans who distanced themselves from Trump's comments went too far, suggesting that losing a son in a war makes you immune from criticism. "You're not going to find me being critical of Mr. and Mrs. Khan no matter what," said Gov. Chris Christie, a Trump supporter. "It's just inappropriate for us in this context to be criticizing them, and I'm not going to participate in that."
It's not surprising that Trump, whose appeal is based largely on his rejection of political correctness, would rebel at that expectation, which is neither fair nor reasonable. Just as the relatives of people murdered in mass shootings do not necessarily know what they're talking about when they promote Hillary Clinton's gun control agenda, the parents of slain soldiers do not necessarily know what they're talking about when they oppose Donald Trump (or when they support him). The problem was not Trump's decision to rebut Khan; it was the content of his rebuttal.
Ohio Gov. John Kasich—who like Christie competed against Trump for the Republican nomination but unlike Christie could not stomach an endorsement—lectured Trump on Twitter about his breach of decorum: "There's only one way to talk about Gold Star parents: with honor and respect." Trump's mistake, in other words, was treating Khan the way he would treat any other political opponent: by belittling him instead of explaining why he was wrong.