Combative Tea Party Kansas Rep. Huelskamp Loses Primary
Opposed Boehner and lost Ag Committee position; industry turned against him.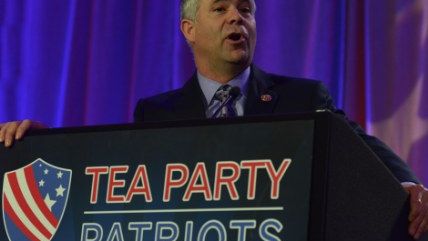 (Miguel Juarez Lugo/ZUMA Press/Newscom)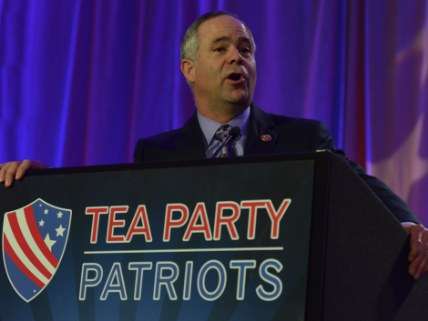 Republican Kansas Rep. Tim Huelskamp is out, defeated in the state's primaries last night by a challenger, Roger Marshall, a political newcomer. The latest numbers have Marshall ahead 57 percent to 44 percent. That's not a narrow loss.
Huelskamp came into office in 2010 as part of the Tea Party push. He is a member of the House Freedom Caucus and was one of the small group of Republican congressman who in 2015—along with familiar-to-Reason reader names like Justin Amash, David Brat, and Thomas Massie—voted against naming John Boehner speaker of the House.
Huelskamp had previously been punished by Boehner in 2012 for voting against Republican establishment positions by being booted from the Agriculture Committee (this happened at the same time Amash was booted by Republicans from the Budget Committee).
This apparently turned the agriculture industry against Huelskamp. Club for Growth and the Freedom Caucus maintained support for Huelskamp, but the U.S. Chamber of Commerce and agriculture industry groups turned to Marshall. Marshall's endorsements include a host of agriculture interests, including ethanol representatives. Huelskamp opposes the federal renewable fuel standard. Marshall supports it.
The narrative for Huelskamp's loss was that he was just too combative and that his clashes had hurt his district, which is an interesting way of describing the party's establishment punishing Huelskamp by stripping him of his influence for voting in ways they didn't like.
But as McClatchy notes, there was a little bit more than just the agriculture lobby plotting against Huelskamp. His district lines were redrawn to include Fort Riley and Kansas State University, bringing voters who "are not as libertarian on economic issues nor as socially conservative as those who live in the west."
Possibly relevant, beyond just the agricultural lobby, was the fact that Huelskamp's social conservativism had a strong anti-gay bend to it. He believed that proponents of gay marriage recognition were trying to weaken and destroy the institution altogether and was a supporter of the National Organization for Marriage's efforts. His position went far beyond the "let the states decide" position of many current conservatives. In 2013 he introduced a constitutional amendment to try to restrict marriage recognition across the country to heterosexual couples only.
Marshall holds many conservative positions and is pro-life (he's also an obstetrician), but there's nothing on his issues page about gay marriage or gay rights at all. Huelskamp's campaign actually attacked Marshall for belonging to a physician's group (the American College for OB-GYNs) that supports gay marriage recognition and the right to abortion.
Is this a warning sign for the future of the Tea Party movement? Hard to say. Given the state of the Republican Party right now with Donald Trump as a completely uncontrollable presidential candidate, it's tough to even speculate about the party's future other than to say that regardless of what happens in November, it's going to have to really figure out what the heck it is.
It is worth noting that despite the crazy tone of the election, we're not actually seeing a lot of shocking primary results. ABC notes that Huelskamp is only the fourth incumbent legislator to lose a primary. Two others had their district boundaries significantly altered and one was indicted on corruption charges.
Below the fold is House Freedom Caucus Chairman Jim Jordan's (R-Ohio) statement in response to Huelskamp's loss:
"Our colleague Tim Huelskamp (R-KS) is a fifth generation farmer and conservative Republican who, since the day he was elected, has stood up for the values of the families and taxpayers in his district.

"At times, Tim's commitment to fighting for smaller, more accountable government required him to stand up and say no to 'business as usual' in Washington.

"For this, he was punished by the same party insiders and special interests that Republican voters across the country overwhelmingly rejected at the ballot box throughout the presidential nomination process.

"In an ugly and dishonest campaign, Tim's record was attacked and misrepresented by big money special interest groups who wanted to exact their revenge.

"Republicans need to be unified behind conservative principles to stop the Obama/Clinton agenda. The House Republican leadership's opposition to Tim Huelskamp significantly damaged the ability of House Republicans to do that."