Body-Worn Cameras: Most Major Police Departments Fail at Accountability and Transparency
New scorecard evaluates civil liberties safeguards for body camera programs in 50 cities.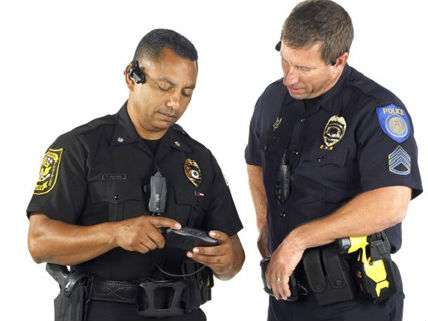 Body-worn cameras are being widely adopted by police departments around the country as an important tool for increasing officer accountability and transparency. For example, a 2015 study found that wearing body cameras reduced officer use-of-force incidents by 50 percent and citizen complaints by 90 percent. However, more recent research finds that police use-of-force declines only when officer discretion to turn cameras on or off is minimized. In other words, watched cops are polite cops.
Today, the Leadership Conference on Civil and Human Rights and the technology evaluation group Upturn released their updated scorecard evaluating the civil rights safeguards of body worn camera policies for 50 major city police departments. The scorecard uses eight criteria to evaluate the body-worn camera policies of each police department. The criteria are:
Makes its policy publicly and readily available;
Limits officer discretion on when to record;
Addresses personal privacy concerns;
Prohibits officer pre-report viewing;
Limits retention of footage;
Protects footage against tampering and misuse;
Makes footage available to individuals filing complaints; and
Limits the use of biometric technologies.
Each of the policy areas are scored as fully, partially or not at all satisfying these eight criteria. So what did they find? Only 26 of the 50 departments fully satisfied the criterion of making it easy for citizens to find their body-worn camera (BWC) policies on their websites. The scorecard also cites specific departments as models for implementing each of the criteria. For example, San Francisco has a designated webpage that updates the department's BWC policy after every biweekly BWC working group meeting.
Twenty-two departments had policies that set limits on the discretion of officers to record interactions with citizens. The Leadership Conference researchers noted that Chicago has a policy that clearly specifies when officers must record and requires officers to provide concrete justifications (on camera) for failing to record. Interestingly, the body camera of the Chicago police officer who shot and killed a young black man, Paul O'Neal, last week was not functioning. The officers involved in the shooting have been relieved of their police powers.
Only 11 departments fully satisfied the criterion for protecting the privacy of vulnerable individuals (e.g. victims of sex crimes) from being recorded without their prior informed consent. The model policy cited is used by the Philadelphia police department which requires that police officers to deactivate cameras when entering a residence, hospital room, or at the request of any crime victim, witness, or informant. If practical, police are supposed to ask permission to record inside residences and record any consent given on camera.
None of the 50 departments had policies that fully satisfy the criterion for limiting officer review of body-worn camera video prior to filing their reports of an encounter. In fact, 40 departments allow — or even encourage — officers to view relevant footage before filing an initial written report or statement. The idea behind prohibiting pre-report review is that filing an initial written report from memory would provides greater context to what occurred and prevents the officer from conforming his statements to just what is shown on the video. The Oakland, California police department had the best policy. Officers are required to submit a written report of the incident to an investigator first and then given an opportunity to view the video and subsequently amend the report.
Only 11 departments fully satisfied the criterion on retaining unflagged footage for no more than six months. If the video is not useful in an investigation or relevant to a complaint about officer behavior, there is no reason it should be retained. Dallas is cited for its policy of deleting all unflagged video after 90 days.
Only 11 departments fully satisfied the criterion against misusing video. The Leadership Conference wants policies that expressly prohibit both footage tampering and unauthorized access, and require that all access to recorded footage be logged or audited. The Omaha, Nebraska police department prohibits the deletion, alteration, and download of footage without prior authorization.
Just 4 departments meet the criterion for providing easy access by individuals who are filing police misconduct complaints to view all relevant video. In fact, North Carolina just passed legislation that requires any complainant to get a court order to view the relevant video. Washington, D.C. has the model policy cited by the Leadership Conference which sets out a clear procedure allowing subjects of BWC recordings to view video in a timely fashion.
So far only one police department has set limits on the use of biometric scanning technologies by police such as facial recognition. Taser is already in the process of developing a system in which BWCs combined with facial recognition technology could identify any passing citizens to police officers. The Leadership Conference is opposed to turning what is supposed to be a tool of police accountability and transparency into a vast surveillance platform. The Boston police department is currently unique in limiting the use of facial recognition technologies or other technological enhancements such as night-vision capabilities.
The Scorecard report notes that "accountability is not automatic. Whether these cameras make police more accountable — or simply intensify police surveillance of communities — depends on how the cameras and footage are used." This Scorecard gives citizens and government officials the background needed to ensure that BWCs work for both the public and the police.