U.S. Launches Air Strikes in Libya, GOP Convention Leads to Negative Support, Denton Files for Bankruptcy: P.M. Links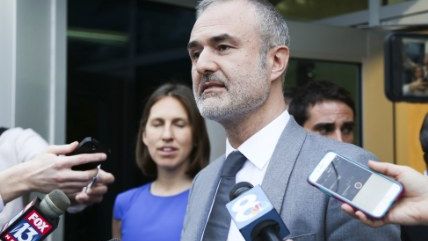 (Eve Edelheit/ZUMA Press/Newscom)
Eve Edelheit/ZUMA Press/Newscom

The United States is now conducting airstrikes against the Islamic State in Libya, claiming that the current Authorization for Use of Military Force (AUMF) against al Qaeda also applies here.

For the first time since Gallup started asking in 1984, viewers walked away from the Republican National Convention feeling less supportive of the party's candidate.
Gawker founder Nick Denton has filed for personal bankruptcy in the aftermath of his (and the company's) loss in the Hulk Hogan sex tape lawsuit.
New York Gov. Andrew Cuomo is supporting legislation to block the state's registered sex offenders from playing Pokemon Go because everything is a source of panic.
A federal judge is hearing arguments today in a lawsuit attempting to block the implementation of North Carolina's new law that requires transgender people to use school and government building facilities that match the sex listed on their birth certificates.
A top Jeb Bush adviser is leaving the GOP and is considering voting for Hillary Clinton.
Follow us on Facebook and Twitter, and don't forget to sign up for Reason's daily updates for more content.