Marijuana Competition Coming to Oregon State Fair
The annual institution known for dull, innocuous, family-friendly fare adds three cannabis competition categories.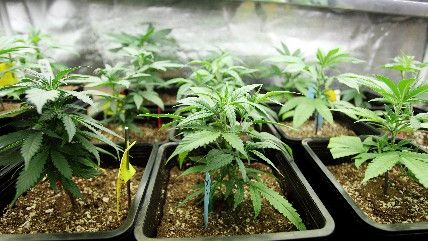 (Peter Kim/Dreamstime.com)
When you hear the words "state fair," you're likely to associate the phrase with images of bored-looking kids standing restlessly beside their fried food-chomping parents as a minor rock band from the 1980s plays its one recognizable radio hit song before Gallagher strides to the stage to smash a watermelon.
This year's Oregon State Fair will have its share of sad Boomer rock (Foreigner! Pat Benatar!), but it will also feature a very 2016 addition to its horticulture competition: the Oregon Cannabis Growers' Fair.
Alongside the dog, horse, and livestock shows, as well as other a competition featuring the Beaver State's best home-brewers of beer, the cannabis competition will award the three traditional ribbons (blue, purple, yellow) in three categories of marijuana plant (sativa, indica, hybrid).
The Los Angeles Times reports:
"We regularly reach out to the community with some form of education, to de-stigmatize the industry and the plant," Don Morse, chair of the Oregon Cannabis Business Council, told Leafly this week. "For the people at the state fair to let this happen is really groundbreaking."

The inclusion of marijuana in a state fair speaks to its suddenly booming reputation as a cash crop and its growers as the future farmers of America, at least in Oregon, Washington, Colorado, Alaska, and Washington, D.C., where, since 2012, voters have approved legal recreational use of marijuana. It remains illegal in the eyes of the federal government.
According to the Cannabis Growers' Fair's website, consumption of marijuana will be strictly prohibited during the fair, and the plants in competition must be "non-flowering," meaning no buds. Morse also told Leafly, "The legislature has designated cannabis as a farm crop in Oregon, and we are treating it that way…There is absolutely nothing to be afraid of."
Oregon State Fair spokesman Dan Cox told the Washington Post, "Folks are kind of enjoying the perceived friction between state fair values and pop culture," and also noted that the competition will take place in a separate hall from the rest of the fair to avoid dank herbal aromas from permeating events with young children.