Pine Bluff Cops Killed 107-Year-Old Man And Got Medals For Doing It, Now Won't Give Them Back
"I don't understand...were you in the war? No, I killed a 107-year-old man"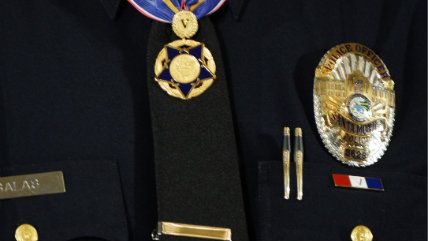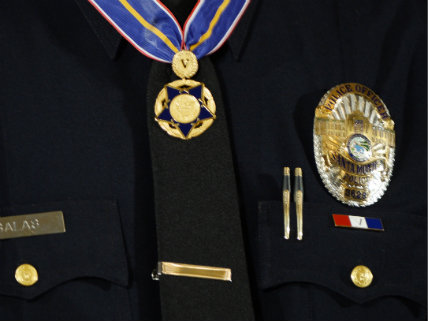 Police officers in Pine Bluff, Arkansas, are lawyering up after the city council voted to rescind medals of valor handed out to the SWAT team in 2013.
What did the SWAT team do to earn those valorous medals? They stormed into the home of 107-year old Monroe Isadore, shot him to death—and then successfully dodged a state investigation of the incident.
Nearly three years after the incident, the city council voted unanimously this month to revoke the medals. As of Monday, however, the police force has yet to return the medals and is seeking legal counsel to challenge the city's decision, according to local TV station KATV.
"I don't understand the rationale, I don't understand why anyone would want a medal, who can you show it to? Oh, I have a medal of valor, well were you in the war? No, I killed a 107-year-old man…you know…who would want that?" Councilwoman Thelma Walker told KATV, the local ABC affiliate.
Walker sponsored the resolution, which said conferring medals and awards "in the aftermath of such a sensitive and emotionally charged event is unconscionable and reprehensible and should not be sanctioned by the City of Pine Bluff."
Awarding those medals seems to have been done in secret. Isadore's children were unaware the medals even existed until the city council voted to rescind them, and the city won't say how many were actually given or who made the decision to award them, according to KATV.
Asked about the city's decision to revoke the medals, Pine Bluff Police Chief Jeff Hubanks told the Pine Bluff Commercial the department was "going to talk to an attorney" and declined further comment.
It's unclear whether the city has the legal authority to strip the medals. City Attorney Althea Hadden-Scott told the Commercial that the council resolution is not binding and lacks enforcement authority.
Isadore was killed on September 8, 2013. Police responded to a call and found him in his bedroom with a gun—his family later said he was upset about being moved to an assisted living community.
After safely evacuating two other people from the house, the cops used negotiation tactics and smoke bombs in an unsuccessful attempt to get Isadore to surrender.
When that failed, they called in the county SWAT team. When SWAT officers broke down the door to Isadore's bedroom, he fired at them and they returned fire, killing him.
Although the shooting might have been justified since Isadore reportedly fired at the cops first, it appears that police escalated the situation to a point where a violent ending was nearly unavoidable. It was not a hostage situation and Isadore was not a threat to anyone but himself, at least until officers forced their way into his room. Was sending in a SWAT team to use deadly force against a 107-year old man really the best option available?
It's doubtful that any answers will be forthcoming. Nearly three years later, even with awareness of police violence at higher levels, it's unlikely that there will ever be a full investigation of the circumstances that led to Isadore Monroe's death.
The officer who killed Isadore was placed on paid leave, and his or her name was never released to the public. The state police declined an invitation to investigate the incident and subsequent attempts by Isadore's family to have the shooting investigated went nowhere.
(Lawyers' fees for the cops are being covered by the local Fraternal Order of Police, so the police are not costing taxpayers anything by refusing to comply with an order issued by the local government that, theoretically, controls them.)
But even if accountability is out of reach, is it too much to ask that police officers not be feted like they returned home from a war zone after gunning down a confused centenarian?
Isadore's daughter, Paula Aguilar, told KATV that she doesn't think the honors were deserved. "I looked up `valor,' and I'm like, `No, that doesn't fit to what they did to my dad."