You Can Get Chick-Fil-A at the DNC, But Good Luck Finding a Salad
Does Michelle Obama know the DNC is a "food desert"?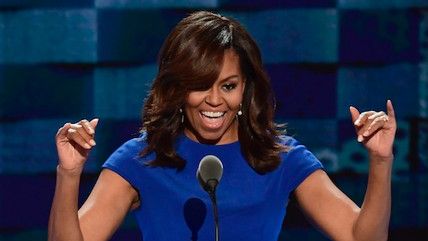 (Ron Sachs/ZUMA Press/Newscom)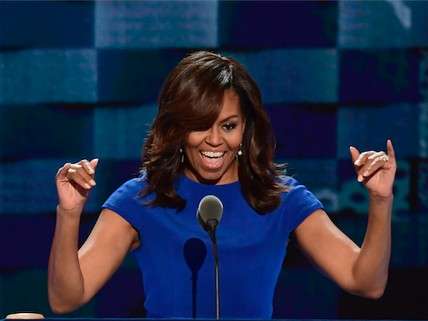 Early on in her tenure as First Lady, Michelle Obama decided to make childhood obesity her cause célèbre, which is a completely worthwhile effort and will certainly age better than Nancy Reagan's zero tolerance drug prohibitionist "Just Say No" campaign.
But Mrs. Obama hasn't been merely urging American youth to get off their sedentary asses and run around for a little bit each day, she's also used the bully pulpit of her ceremonial position to advocate for the end of king-sized candy bars and to chastise a young Olympian on national TV for admitting that all she wanted was an Egg McMuffin.
The First Lady also pushed for a government solution to the supposed problem of "food deserts," generally defined as low-income urban areas with a paucity of grocery stores and restaurants featuring healthy culinary options.
After two days covering the Democratic National Convention (DNC), held at the Wells Fargo Center in Philadelphia, I'd like to make my own plea: Michelle, this place is a food desert and we need your help. 
The food is horrible at the DNC, when it's available at all. Try to imagine going to a sold-out Philadelphia Flyers game with only one of every five kiosks in the concourse open. Lines are interminably long for hot lamp-warmed pizza, hot dogs, and various fried grease and meat-like substances. I heard uncomfirmed reports that complimentary meals were scarce even for arena and convention employees.
Particularly appalling to friends of Reason such as Fox Business host Kennedy is the inexplicable shuttering of the Gluten-Free station. And if you want a cup of coffee, you'd better be ok with getting your caffeine fix from a $5 can of Pepsi.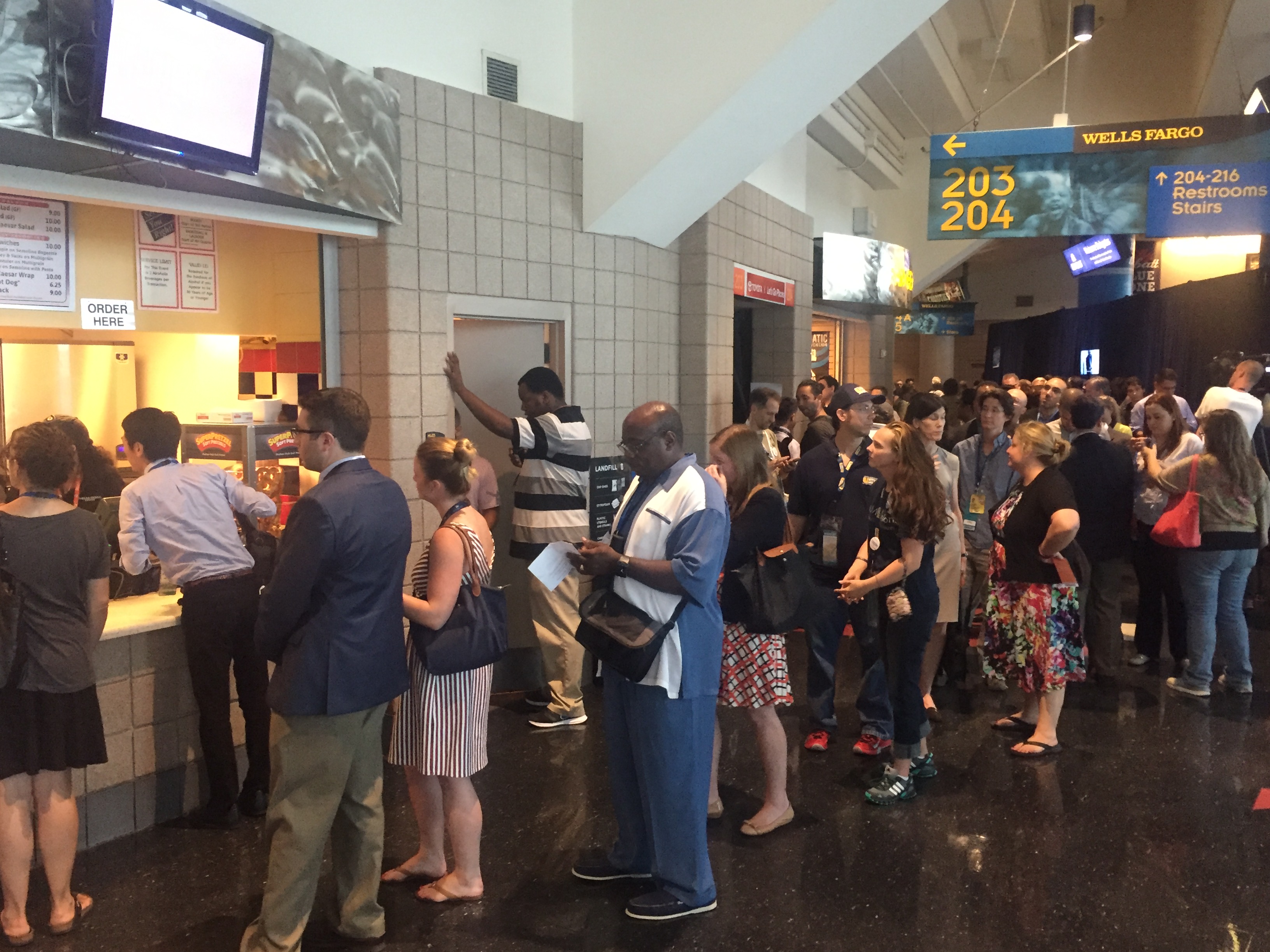 Despite being housed on a sprawling sports complex shared by the Phillies' Citizen Bank Park and the Eagles' Lincoln Financial Field, the only dining options outside the arena are a handful of food trucks, four of which specialize in (wait for it) cheesesteaks. There is also a "Sushi Burrito" truck, a Korean taco truck (my personal favorite, and one that proudly advertises its vegan options), and a large pavilion featuring more burgers, hot dogs, BBQ, and in the only surprise to be found, Chick-Fil-A sandwiches. 
Yes, that's the same Chick-Fil-A which some Democratic mayors, including former Obama administration Chief of Staff Rahm Emmanuel, wanted to ban from doing business in their cities because of the anti-gay views of the company's president.
About a five minute walk from the arena but within the security perimeter, there's a standard sports bar, which from what I could tell is the only place in the entire securitized DNC area where the general public can order a salad.
Put simply, this place is a food desert. And considering the Democratic Party is the one which prides itself on the virtues of central planning, as well as health, wellness, and hipness, the irony is rich if not satisfying enough to gain any sustenance from.
While the dietary problems of a few thousand convention-goers might not amount to a hill of beans in this crazy world, it appears that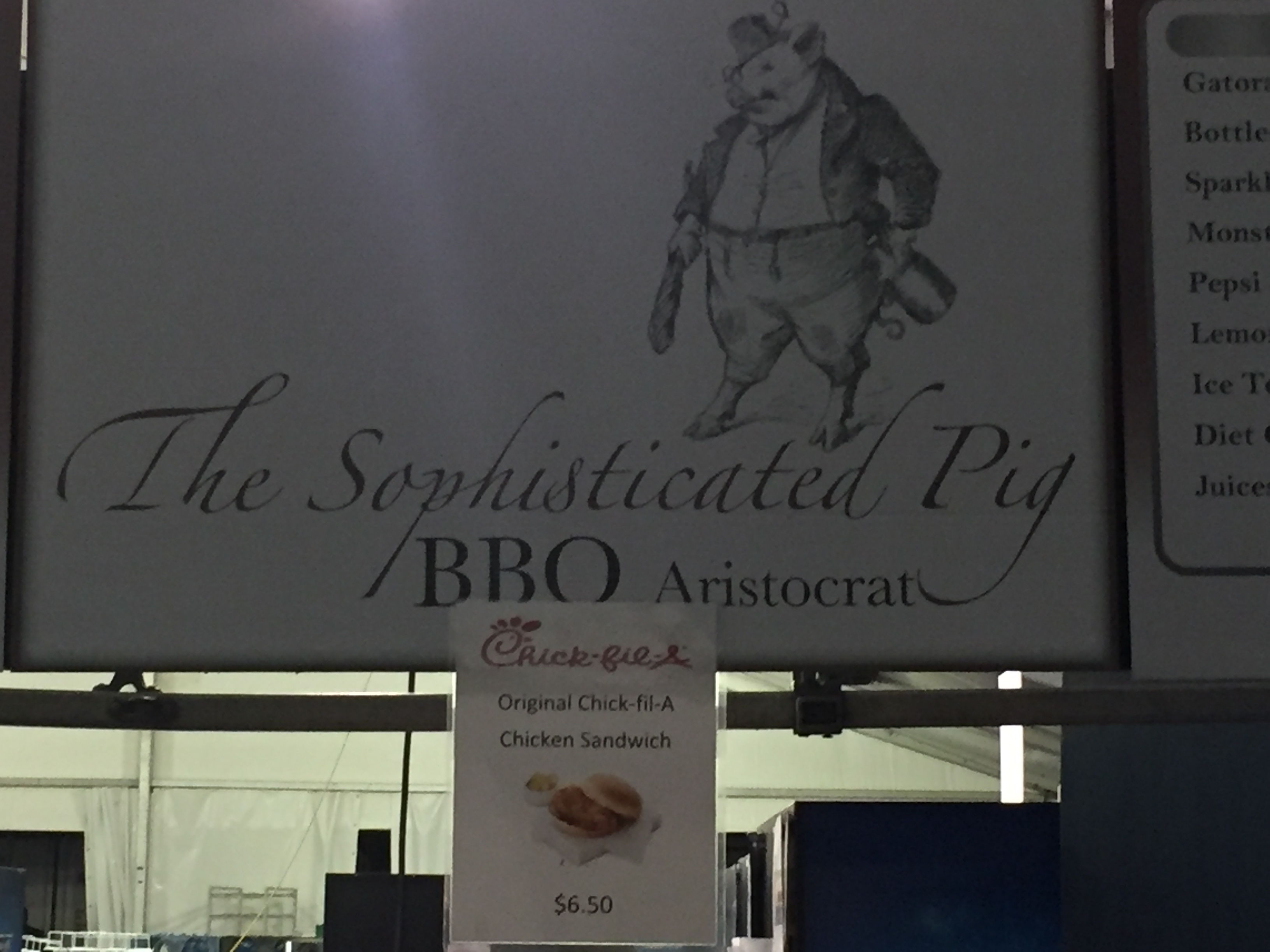 food deserts are probably not the existential crisis we were led to believe.
Writing for the National Review in 2014, Alec Torres noted a study conducted by Health Affairs which examined more than a thousand residents of Philadelphia (of all places), "who formerly lived in areas considered food deserts but have since seen grocery stores built within 1.5 miles of their residences." According to Torres:
Six months after supermarkets were built, the researchers found only 26.7 percent of those who lived near one of the newly built grocery stores ended up using the grocery store as their main food source. Within that 26.7 percent there was no significant improvement in body-mass index or intake of fruits and vegetables.

The findings led the authors of the study to write that "this indicates that simply providing new food retail stores is insufficient to encourage the adoption of new stores as residents' main food source." Residents who didn't adopt the new stores, it is assumed, continued to use the old, less-healthy alternative.
Last month, the U.S. Department of Agriculture (USDA) essentially admitted that the $500 million spent by the government "to attract supermarkets or improve existing stores in underserved areas" was a failure. Turns out the price of food and "household and neighborhood resources, education, and taste preferences may be more important determinants of food choice than store proximity," according to the USDA's official magazine Amber Waves.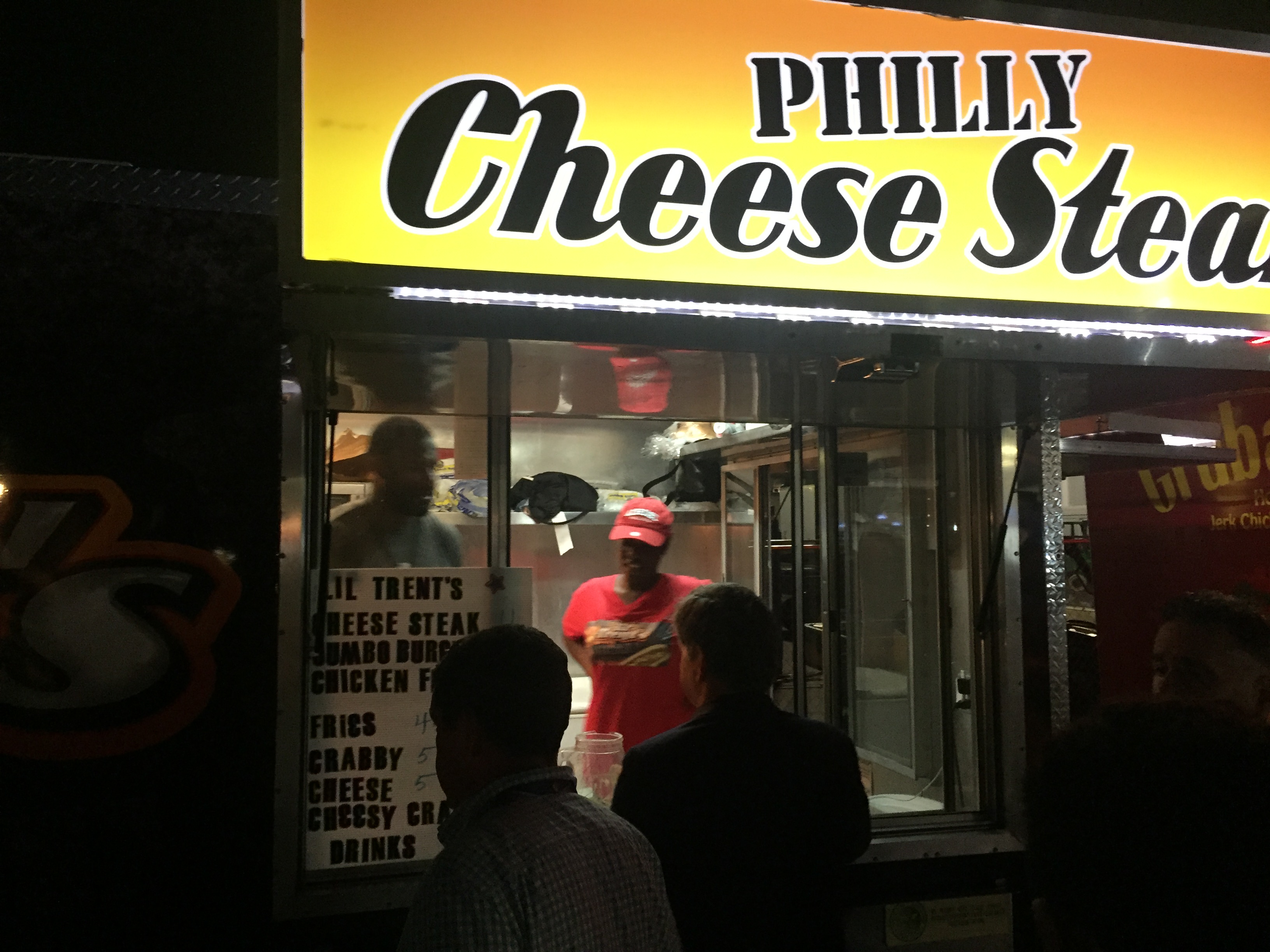 The fact that a taxpayer-infusion of half a billion dollars was not enough to change eating habits in "food desert" neighborhoods demonstrates the folly of looking for a purely top-down solution to American obesity. As my colleague Elizabeth Nolan Brown wrote last month, "You can lead human beings to Whole Foods, but you can't make them buy organic kale there."
Still, as an omnivore who chooses not to eat meat every day and does my best to eat well (or at least not horribly) when possible, I was kind of hoping the food and health scolds of the Democratic Party would have used their quadrennial four-day informercial as a venue for savory yet nutritious fare.
I can't stress enough how much available space there is to be had for food trucks and stands outside the arena. The 2016 DNC could have been a farm-to-table Woodstock, with ambitious and health-conscious food vendors from all over the country competing for delegates' and journalists' dinner dollars. Instead, some of us are smuggling bottles of V8 into the venue and buying tiny pretzel-and-hummus snack packs for $4. 
Mrs. Obama, I'm just looking for some greens while I'm in town. Do you think you could help me out by throwing a little of the side-eye you threw at Gabby Douglas (for admitting she likes McDonald's) in the direction of DNC organizers?