Democrats and Hillary Clinton Have Failed for 8 Years to "Curb" Vladimir Putin
The 2008 DNC was filled with confident vows about taming the Russian bear. So much for that.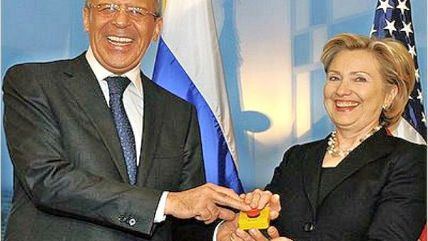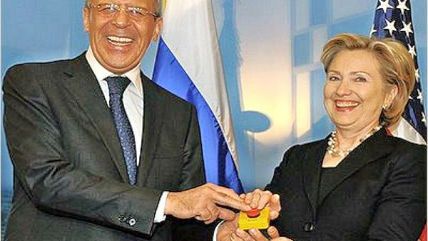 On the eve of the Democratic National Convention, one country, and one authoritarian, was on everybody's lips: Russia's Vladimir Putin.
It was July 2016, sure, but it was also August 2008, when Democrats held their quadrennial convention in Denver against the backdrop of war between Russia and Georgia. Having been out of the White House for almost eight years, and energized in opposition to George W. Bush's foreign policy, the donkey party had confident ideas about how to handle Putin.
"In recent days, we've once again seen the consequences of [Bush's foreign policy] neglect with Russia's challenge to the free and democratic country of Georgia," soon-to-be Vice President Joe Biden said in his convention speech. "Barack Obama and I will end this neglect. We will hold Russia accountable for its actions, and we'll help the people of Georgia rebuild."
Former Secretary of Defense William Perry, a foreign policy advisor for Candidate Obama, insisted that "Russia really wants respect…We start off by treating Russia with respect." And Obama himself vowed to "renew the tough, direct diplomacy that can…curb Russian aggression."
Needless to say, Russian aggression during the Obama era has been anything but "curbed"—Putin annexed Crimea under military threat, and continues to be involved in low-level skirmishing in Ukraine. "Treating Russia with respect," in the form of abandoning a planned NATO missile shield in the Czech Republic and Poland, didn't put a dent in Putin's scheming, particularly in the countries under question: Russian intelligence and state-owned entities have been pouring into former Warsaw Pact countries, effectively turning the once-free country of Hungary into a client state.
Hillary Clinton, as secretary of state, teamed up with President Obama and Vice President Biden on a "reset" of Washington-Moscow relations, betting that newly installed President Dmitry Medvedev would prove to be a more willing diplomatic partner. Clinton even presented her counterpart, Foreign Minister Sergey Lavrov, with a bright red reset button in 2009. And no, I'm not making that up:
In her book Hard Choices, Clinton makes a game attempt to declare at least some victory:
The reset led to a number of early successes, including imposing strong sanctions on Iran and North Korea, opening a northern supply route to equip our troops in Afghanistan, bringing Russia into the World Trade Organization, winning UN backing for the no-fly zone in Libya, and expanding counterterrorism cooperation.
Observant readers will note that most of this stuff was cooperation in letting the U.S. flex its muscles harder, rather than curbing or moderating Russia's internal crackdowns and external aggression in its Near Abroad. At any rate, "the tone began to shift in late 2011," beginning with Medvedev announcing he would not run for re-election, and continuing with the ensuing disputed election. While Clinton in her book insists that if you had "more modest expectations," then "the reset delivered," she nonetheless advised in her January 2013 exit memo to the president that (in her words) "we should hit the pause button on new efforts."
"We had to be realistic about Putin's intentions and the danger he represented to his neighbors and the global order, and design our policy accordingly," she wrote. "In stark terms, I advised the President that difficult days lay ahead and that our relationship with Moscow would likely get worse before it got better."
Conducting good foreign policy is hard, quickly exposing the limits of American omnipotence. But as the Democratic Party power structure cranks up for some full on Russia-baiting against both Donald Trump and Wikileaks, it's worth remembering that very selling proposition of its presidential nominee is her experience conducting foreign policy, and that her track record with Russia was at best naïve and ineffectual. Democrats made the fatal mistake of believing their own campaign bluster, including the narcissistic notion that being different than George W. Bush was enough to be better.
After the jump, if you can stomach it, read some of candidate Barack Obama's 2008 convention forecasting of what he would accomplish with American foreign policy:
As Commander-in-Chief, I will never hesitate to defend this nation, but I will only send our troops into harm's way with a clear mission and a sacred commitment to give them the equipment they need in battle and the care and benefits they deserve when they come home.

I will end this war in Iraq responsibly, and finish the fight against al Qaeda and the Taliban in Afghanistan. I will rebuild our military to meet future conflicts. But I will also renew the tough, direct diplomacy that can prevent Iran from obtaining nuclear weapons and curb Russian aggression. I will build new partnerships to defeat the threats of the 21st century: terrorism and nuclear proliferation; poverty and genocide; climate change and disease. And I will restore our moral standing, so that America is once again that last, best hope for all who are called to the cause of freedom, who long for lives of peace, and who yearn for a better future.