Dems in Disarray! Bernie Sanders Delegates Just Booed When Told to Vote For Hillary Clinton
More evidence that both major political parties are in the midst of a meltdown.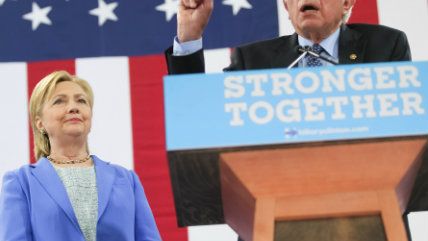 As the Democratic National Convention kicks off in Philadelphia today, Sen. Bernie Sanders, the runner-up in the Democratic primary race, told his delegates that they must rally around Hillary Clinton as the Democratic nominee. Sanders' delegates responded with boisterous boos.
Here's the clip, via CNN:
Bernie Sanders: We have to defeat Donald Trump and we have to elect Clinton and Kaine https://t.co/aezIyyZAOE https://t.co/55ckVZaVnw

— CNN Politics (@CNNPolitics) July 25, 2016
"Brothers and sisters. This is the real world that we live in," Sanders said as the boos lingered, trying to calm the crowd and turn the conversation around to the way that Donald Trump has "insulted women and Africans."
But the crowd refused to settle down, and instead launched into a pro-Bernie chant.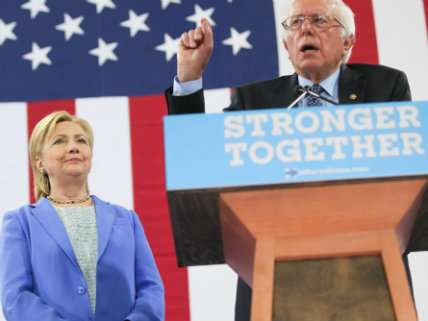 The brief moment is yet another reminder of the Democratic party's deep internal divisions as the convention opens. The party has been bitterly split throughout its nomination process, with many Democrats deeply unsatisfied with Clinton and Democratic leadership.
And over the weekend, the long-embattled Democratic National Committee (DNC) Chair Debbie Wasserman Schultz announced that she would be stepping down at the end of the week following the hacking and unauthorized leak of DNC emails. After initially saying that she would gavel in the convention, it looks like she won't even do that. Wasserman Schultz was also booed while on stage this morning at an appearance before Florida's DNC delegation.
All of this amounts to a remarkable display of disunity heading into the party's biggest political event of the year. And what's even more remarkable is that Democrats aren't alone in this: The Republican convention last week was marked by infighting and argument as well, with Sen. Ted Cruz, the runner-up in the GOP primary, declining to endorse Donald Trump in a primetime speech—resulting in a wave of boos from the convention floor.
None of this should be surprising given that the parties have nominated to two least well liked candidates in history. The coalitions that used to hold the parties together are fracturing, and the fragments that remain are less and less satisfying to the American public.
Democrats may end up holding together a little better than Republicans, at least in the near term, but it's clear from the reaction of Sanders' delegates today that deep divisions will remain for a long time. The two major parties—and the old political binary they represent—are both experiencing full-scale meltdowns driven by disaffected and disappointed voters. That's the real world that we live in, and it's rather amazing to watch.