Philadelphia's DNC Protests Expect to be Bigger, Angrier than Cleveland's RNC Protests
Cleveland's protesters were confined to "protest zones" miles away, Philadelphia will have fewer restrictions and more disenfranchised demonstrators.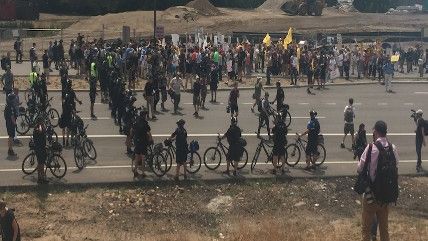 (Reason/Anthony L. Fisher)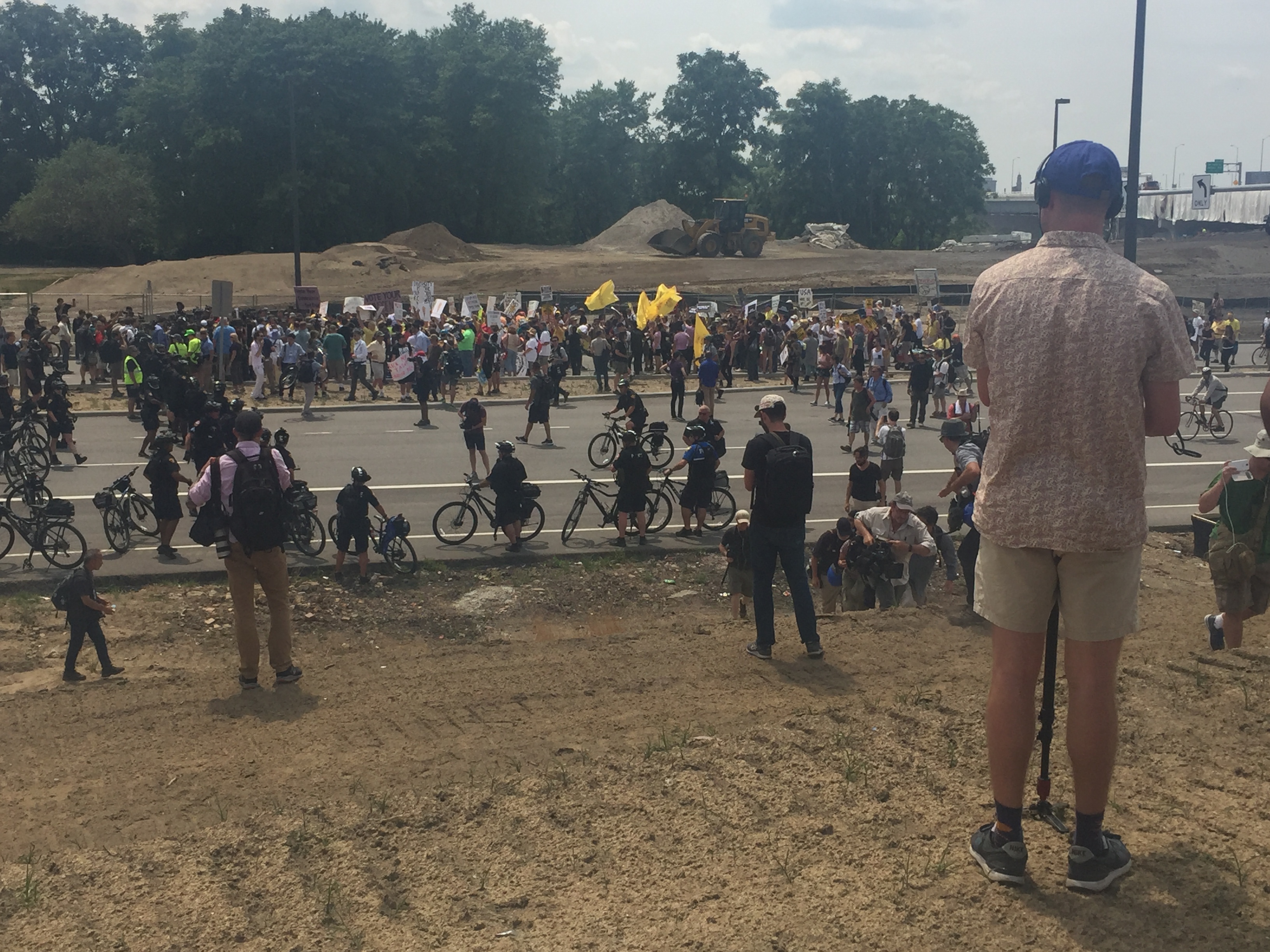 By now you probably know Cleveland's stint hosting the Republican National Convention (RNC) was full of kumbayas despite the anxiety over the potential for violent unrest which was the order of the day just a week ago.
Law enforcement (which included everyone from the Secret Service to the Cleveland PD to the many out-of-town departments from as far away as California) were almost always professional, helpful, and bathed with respect and gratitude by passing attendees. I saw more people snapping photos with police officers than any celebrity, politician or media figure in Cleveland last week. Not that this is a bad thing, police do hard and vital work in the public interest, but with so many RNC speeches devoted to "War on Cops" and end-of-days themes, you'd think policing the RNC would have been the most terrifying job on the planet, and it simply wasn't. 
A big part of the reason was that protesters just did not descend on Cleveland in the numbers predicted. Black Lives Matter instead devoted its efforts last week to occupying the police union headquarters of New York and Washington, D.C., and many progressive groups opted to instead put their energies toward protesting the Democratic National Convention (DNC) in Philadelphia this week. 
Attending about a dozen protests, marches, and rallies over four days in Cleveland, I couldn't find a single one attended by more than five hundred people. And each rally was pretty much attended by the same hardcore communists and anarchists who did mostly empty rhetorical battle with the same Islamophobes and xenophobes all week. 
Some protesters complained of being harassed with FBI "no-knock raids," which the FBI preferred to describe as a "protective sweep," but another reason the protests had so little effect is that only one of the three designated "protest zones" was within walking distance of the RNC's venue at Quicken Loans Arena. I visited one of the protest zones, Willard Park, three times and the only action I found there was a friendly, non-homophobic Christian group handing out bibles, some bored-looking climate protesters, and the Trump Hut.
The most anticipated protest event of the week, Thursday's "Stand Together Against Trump" march, had no more than 300 participants who trudged over the Lorain-Carnegie Bridge, flanked by about a hundred story-hungry reporters (myself included). The bridge is in a part of the city where absolutely no traffic was permitted in any direction. Pedestrians access was greatly restricted too, which lead to the comical scene of reporters and photographers climbing through construction sites to get a glimpse of the action, such as it was.
When the marchers made it across the bridge, they were stopped by a row of more than a hundred police officers on bicycles who formed a mobile fence (a law enforcement tactic credited as innovative and useful in crowd control, but also derided as overtly aggressive throughout the week). It was a surreal scene, a display of public dissent held in the relative vicinity of one of the most important political conventions in American history, so tightly contained to a particular area that it would be seen by literally no one who wasn't paid to be on that side of town. 
Later that day, I spoke with a member of the police watchdog group Copwatch, who described law enforcement during the RNC as a "police state with a smiley face." To back up his point, he pointed to the overwhelming numbers of police in attendance at each protest, their tendency to pre-emptively shut down any rallies where people grew animated, the use of bikes as offensive shields when pushing protesters back, and the frequently deployed tactic (confirmed by police scanners) of police tailing anyone they deem suspicious, including protesters "playing duck-duck-goose in the park" and a demonstrator dressed as a robot. 
Much of the fear that Cleveland would turn into a war zone during the RNC was built on the violence of pro and anti-Trump supporters at rallies over the past year. But some stragglers aside (like the angry Utah delegates I spoke to on Thursday), the Republican Party is solidly behind Trump, while Hillary Clinton has yet to win over a sizable portion of Bernie Sanders' supporters. This makes Philadelphia ripe for protests. 
The palpable anger of the "Bernie or Bust" crowd was further enflamed following the hacked document dump by Wikileaks last week, which revealed (to no one's surprise) that the Democratic Party establishment was not exactly enthralled with Sanders' democratic socialist insurgency, which made the party's longtime presumptive nominee actually have to campaign for the nomination for president. 
In contrast with the RNC's host city, Philadelphia will have fewer restrictions on protests and rallies, and the City of Brotherly Love's access to the densely populated I-95 corridor makes it an easier destination to travel to than Cleveland. And while it was hot and muggy in Cleveland, it is expected to be a particularly dangerous and miserable mixture of extreme heat, moisture, and thunderstorms in Philadelphia this week. 
Reason will once again be covering the convention all week through both the printed word and video.