Scenes from the Ground in Cleveland After 2 Days of the RNC
Police presence is overwhelming, protests remain small and manageable, and quite a few people think the end of the world is nigh.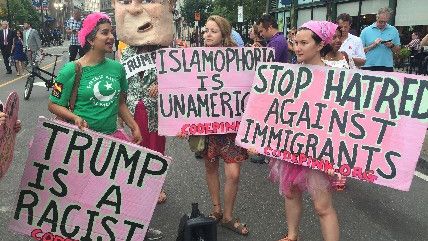 On the morning of Day 3 of the Republican National Convention (RNC) in Cleveland, the long-feared violent unrest has not only failed to materialize but the thousands of on-duty police officers here are far more likely to be greeted with applause, thank yous, and requests for photos than hostile protests. With permitted demonstrations confined to three "protest zones," each at least a mile from the site of the RNC, crowds have been small and mostly entirely peaceful.
A brief skirmish erupting at a pro-immigration rally (where conspiracy theorist radio host Alex Jones was reportedly punched)  in Public Square yesterday was enough to make national news precisely because the atmosphere has been so calm in Cleveland thus far. Though there was already a substantial police presence About 300 officers immediately descended on the square and sealed it off for about an hour as they cleared the demonstrators and counter-demonstrators.
Following that, six members of the Westboro Baptist Church—notorious for picketing military funerals and shouting vile anti-gay slogans such as "God hates fags"—took to the Public Square stage and sang parody versions of the theme song from the Disney film Frozen (among others) with alternate lyrics reflecting their homophobic views. A few minutes into Westboro's demonstration, Triumph the Insult Comic Dog (the borscht belt puppet voiced by comedian Robert Smigel) led a group of counter-protesters chanting mock slogans such as "God Hates Mermen" and "God Hates Bad Wi-fi."
After the jump you can view a slideshow of some of the colorful characters seen in Cleveland over the first two days of the RNC.