Obama Raising Heat Wave Awareness, Gary Johnson in Cleveland, Turkey Bans Travel for Academics: P.M. Links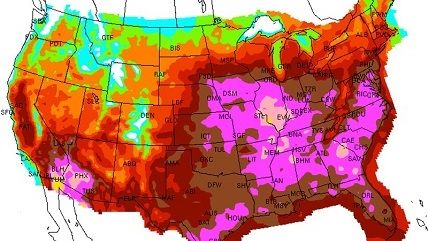 NOAA

President Obama is raising awareness about the heat wave.

A speechwriter with the Trump Organization has taken responsibility for plagiarism in Melania Trump's speech. Gary Johnson appeared in Cleveland for the Republican convention. Dan Savage incorrectly claimed the Green party didn't field local and state-level candidates while also hurling race-based insults at Jill Stein in an effort to discourage his listeners from supporting her. Tourists are apparently hitting up the home of Hillary Clinton in New York.
The police chief in Kansas City, where a police officer was fatally shot this week while pursuing suspects who allegedly fired a gun out of a vehicle, said "anti-police speech has got to stop because the consequences are real."
An appeals court in Texas ruled the state's voter ID law had a "discriminatory effect."
A Pokeman Go player in Baltimore crashed his car into a police vehicle.
Turkey has banned all academics from travel as the government's post-attempted coup crackdown continues.