The Shockingly Peaceful Streets of Cleveland During the RNC
Protests are small and muted, police are mostly patient and polite.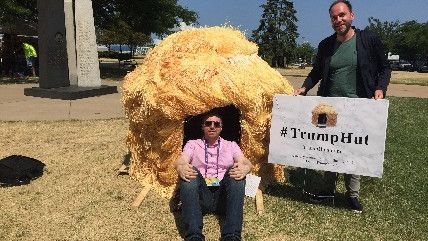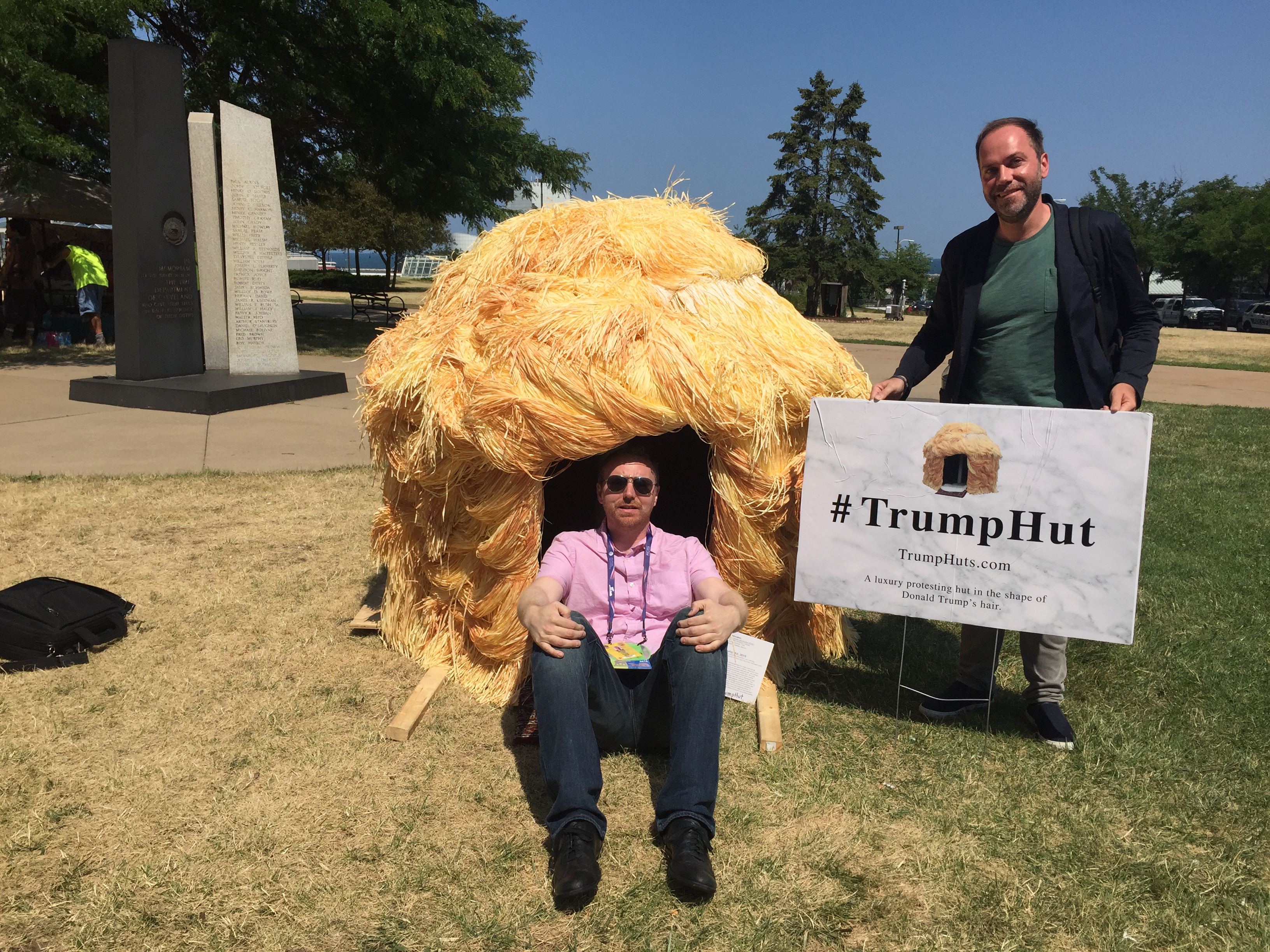 As I wrote yesterday, Cleveland law enforcement agencies, their out-of-town partners, and the Secret Service were seemingly prepared for the apocalypse. But on Day 2 of the Republican National Convention (RNC), all is bizarrely calm and placid around town. 
The streets around Quicken Loans Arena are crowded with visiting delegates, journalists, protesters, and hawkers of Trump-branded paraphernalia. According to Cleveland's police chief Calvin Williams, two "major" protests numbering no more than three hundred people took place "without incident," and Cleveland.com reports one small group of open-carry gun enthusiasts meeting at Cleveland's Public Square was "peaceful and easily managed by police."
Indeed, one of the most noteworthy convention-related incidents to take place yesterday happened a block away from the arena, hours before the evening's program began, when several protesters who claimed to be affiliated with the hacktivist group Anonymous were briefly detained (while surrounded by almost 100 officers, including half a dozen mounted police). The incident ended with the protesters' gas masks and a small knife being confiscated by authorities, but no arrests. 
When sporadic protests have popped up near the arena, such as when Code Pink stood in the middle of the street on Prospect Ave right around the time Scott Baio took the RNC stage, police were patient and accommodating, keeping their distance and intervening only when arguments between pro and anti-Trump voices appeared to be taking a physical turn.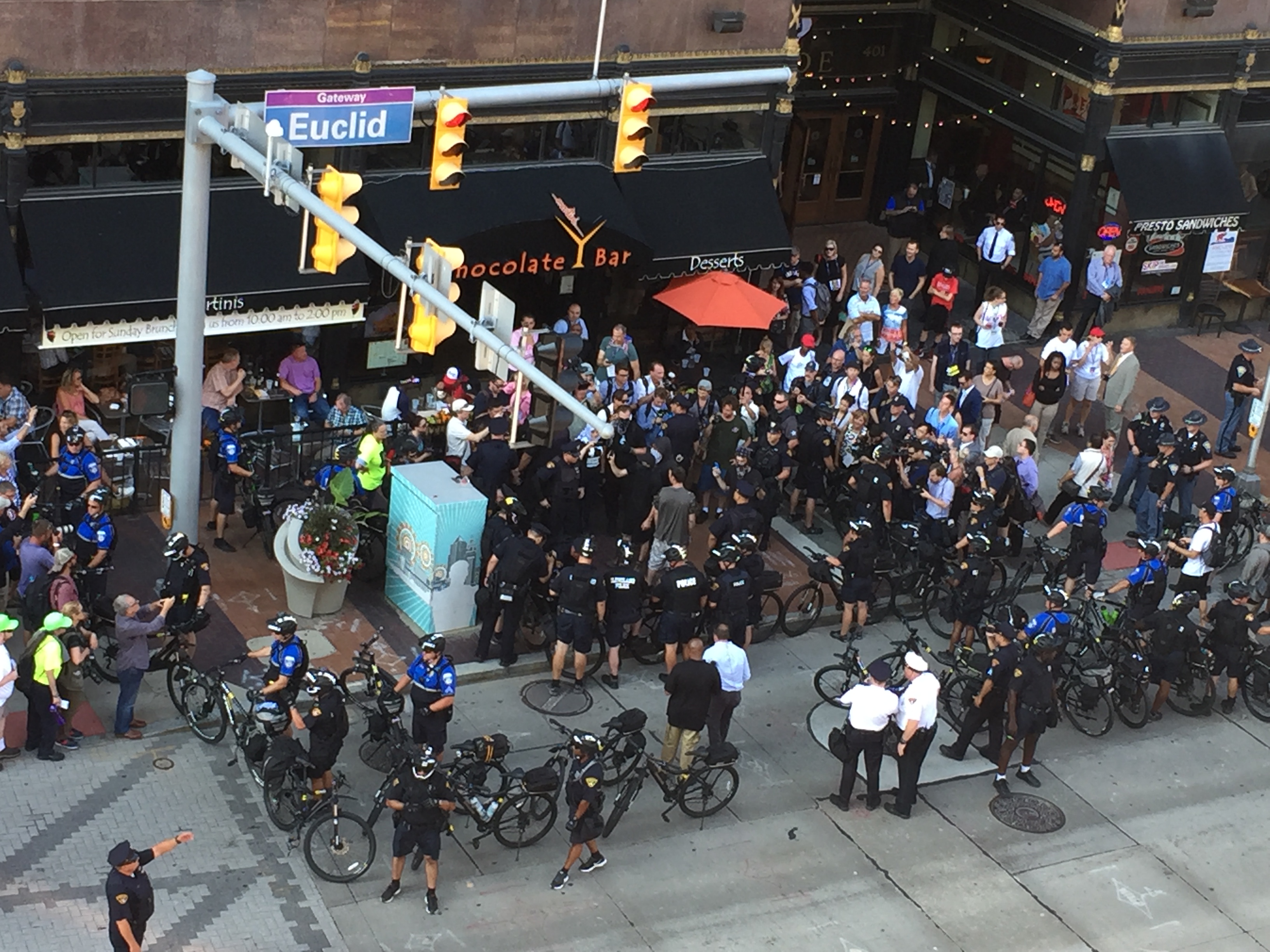 Part of the reason the protests have been so muted is because demonstrators have been confined to three "protest zones" and one designated march route, all of which are at least a mile from the RNC. There is little danger that the crowds of people who participate in the officially sanctioned protests will run into RNC attendees unless they each make the effort to seek the other out. And with security in the "event zone" at extremely high levels, it would take a serious breach for the current eerily calm atmosphere to be significantly altered. 
Earlier today at Willard Park, one of the designated protest zones, there were no protests nor any scheduled for the day, but there was a Trump Hut. Designed by New York-based advertising professionals Doeg Cameron and Tommy Noonan, and fabricated by a Mexican-born immigrant artist, the hut is largely made of Mexican straw and is meant to serve in part as a commentary on xenophobia and income inequality, the latter of which is represented by luxury hotel items within the hut.