GOP Convention Opens (and Is Already a Mess), Baton Rouge Shooter Set Up Ambush, Turkish President Wants to Restore Death Penalty: P.M. Links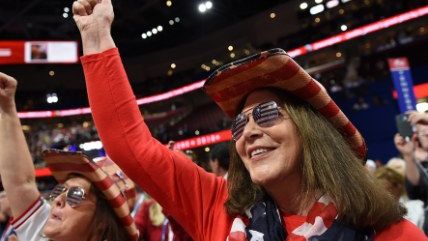 (Molly Riley/UPI/Newscom)
Molly Riley/UPI/Newscom

The Republican Party convention has officially kicked off today in Cleveland. There have been sightings of people openly carrying as Ohio law permits. Politico is reporting that the "Never Trump" crowd has enough delegates to force a floor vote on the convention's rules, but GOP leadership appears to be ignoring it. The Colorado delegation has reportedly walked out. Reason has correspondents all up in the place, so keep an eye out for coverage throughout the week.

Gov. Chris Christie is just fine, "relieved," even, with Donald Trump picking Gov. Mike Pence as his vice president instead of him. He's FINE, OKAY?
Authorities say surveillance footage shows that Gavin Long, the man who fatally shot three police officers in Baton Rouge, Louisiana, had specifically set up an ambush to target police.
Another officer has been acquitted of all charges in connection with the death of Freddie Gray, who died in police custody last year.
Following the failed coup attempt, Turkish President Recep Tayyip Erdogan is looking to reinstate the country's death penalty and is asking the United States to extradite a Muslim cleric in the country he claims was responsible for the attempt.
Rumor has it Roger Ailes will be booted out of his leadership of Fox News over sexual harassment claims.
The Associated Press got their hands on a document showing that the restrictions negotiated on Iran's nuclear program will ease up in 11 to 13 years.
I have absolutely no idea what is going on in this alleged feud between Taylor Swift, Kim Kardashian, and Kanye West, but I'm linking to it anyway because it's my job. The fact that I cannot even understand what is happening is probably the final step in being completely shoved out of pop culture for being too old.
Follow us on Facebook and Twitter, and don't forget to sign up for Reason's daily updates for more content.