Cleveland Police Union President: Suspend Open-Carry, Obama Has 'Blood on His Hands'
Doesn't care if suspending open-carry is constitutional; fortunately Gov. Kasich does.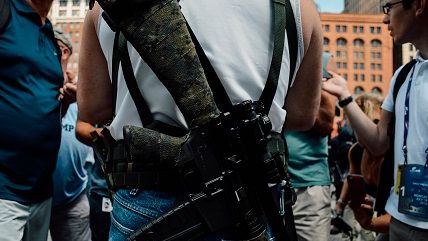 (Megan Jelinger/ZUMA Press/Newscom)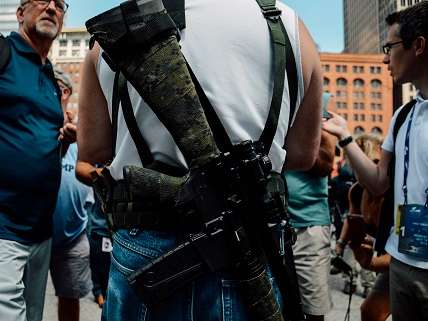 Following the shooting of six police officers, three of whom died, in Baton Rouge on Sunday, the president of the Cleveland Police Patrolmen's Association called on Gov. John Kasich (R-Ohio) to suspend open-carry in Cuyahoga County for this week's Republican National Convention.
"We are sending a letter to Gov. Kasich requesting assistance from him. He could very easily do some kind of executive order or something—I don't care if it's constitutional or not at this point," Stephen Loomis, the union president, told CNN. "They can fight about it after the RNC or they can lift it after the RNC, but I want him to absolutely outlaw open-carry in Cuyahoga County until this RNC is over."
Kasich dismissed the request, pointing out that "Ohio governors do not have the power to arbitrarily suspend federal and state constitutional rights or state laws as suggested."
"The bonds between our communities and police must be reset and rebuilt—as we're doing in Ohio—so our communities and officers can both be safe. Everyone has an important role to play in that renewal," Kasich said according to CNN.
Loomis insists he was pro-Constitution. "We are constitutional law enforcement, we love the Constitution, support it and defend it, but you can't go into a crowded theater and scream fire," Loomis said. "And that's exactly what they're doing by bringing those guns down there."
A few years ago Ken "Popehat" White called Oliver Wendell Holmes' "fire in a crowded theater," more or less a defense of laws limiting free speech in times of war, "the most famous and pervasive lazy cheat in American dialogue about free speech." It has now moved on to gun rights.
It would be one thing if the union president were merely expressing his opinion or the opinion of the union—that's not quite "fire in a crowded theater" speech—but the union president also appeared to speak as a ranking police authority, illustrating one of the many dangerous of permitting police officers to unionize in the first place.
"We are going to be looking very, very hard at anyone who has an open carry," Loomis told CNN. "An AR-15, a shotgun, multiple handguns. It's irresponsible of those folks—especially right now—to be coming downtown with open carry AR's or anything else. I couldn't care less if it's legal or not," the self-described Constitution-lover said.
Later, in an interview on Fox News, Loomis blamed President Obama and the governor of Minnesota for commenting on police-involved shootings last week.
"It's absolutely insane that we have a president of the United States and a governor of Minnesota making the statements they made less than one day after the police-involved shootings," Loomis complained. "And those police-involved shootings, make no mistake, are what absolutely have triggered this rash of senseless murders of law enforcement officers across this country. It's reprehensible. And the president of the United States has blood on his hands that will not be able to come washed off."
Previously, Loomis called the 5-foot-7, 191 pound 12-year-old Tamir Rice, fatally shot by a police officer who exited his vehicle just moments earlier "menacing." Loomis is free to say what he wants, but police unions' often antagonistic contributions to discussions of police violence and reform, coupled with their power to extract far-reaching concession from the governments their members are supposed to be employed by, offer a powerful argument against their existence. Collective bargaining privileges have been packaged as "rights" while used with few qualms to argue against yours.