In Moving Speech, GOP Sen. Tim Scott Describes Being Racially Profiled
"There's absolutely nothing more damaging to your soul than when you know you're following the rules and being treated like you are not."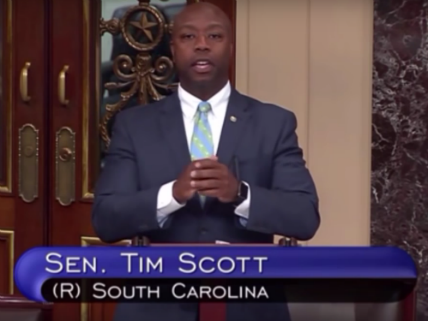 "This speech is perhaps the most difficult," Sen. Tim Scott (R–S.C.) began yesterday, "because it's the most personal."
He proceeded to spend a moving 16 and a half minutes talking on the Senate floor about what it's like to be a black man in the United States—and how it feels to be treated differently from other people, and even targeted by authorities, because of what you look like. Among other striking anecdotes, he detailed being turned away from an event while two white members of his staff were admitted without question. On another occasion, despite the fact that he was wearing the pin that identifies him as a U.S. senator, a member of the Capitol Police stopped him and demanded he show ID, saying, "The pin I recognize. You, I don't."
"Keep in mind, I'm one of the easier senators to recognize," Scott quipped. (There are only two African Americans in the Senate—Scott and Democrat Corey Booker.)
The GOP rising star (who's held his seat since 2013 and served in the U.S. House and state and local politics before that) also shared that in a single year, he was stopped by cops seven times. "Not four, not five, not six, but seven times—in one year, as an elected official," he said.
Scott pointed out that the experience of feeling targeted "for nothing more than being just yourself" is widespread: "I do not know many African-American men who do not have a very similar story to tell, no matter their profession, no matter their income, no matter their disposition in life."
In one of the most powerful lines of the speech, he quoted a former staffer as saying "there's absolutely nothing more frustrating, more damaging to your soul, than when you know you're following the rules and being treated like you are not."
"Today I simply ask of you this," the senator concluded. "Recognize that just because you do not feel the pain, the anguish, of another, does not mean it does not exist."
I'd encourage you to watch the whole thing.