What's the Matter with Police Using Robots to Kill?
The first known "death by police robot" in Dallas raises ethical questions.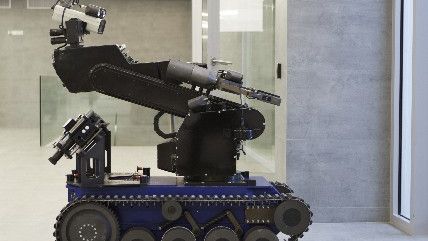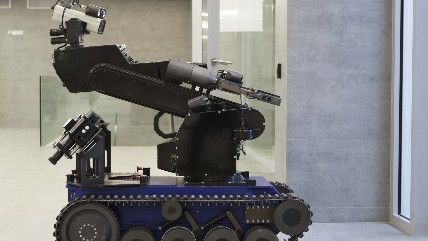 (Jaromír Chalabala/Dreamstime.com)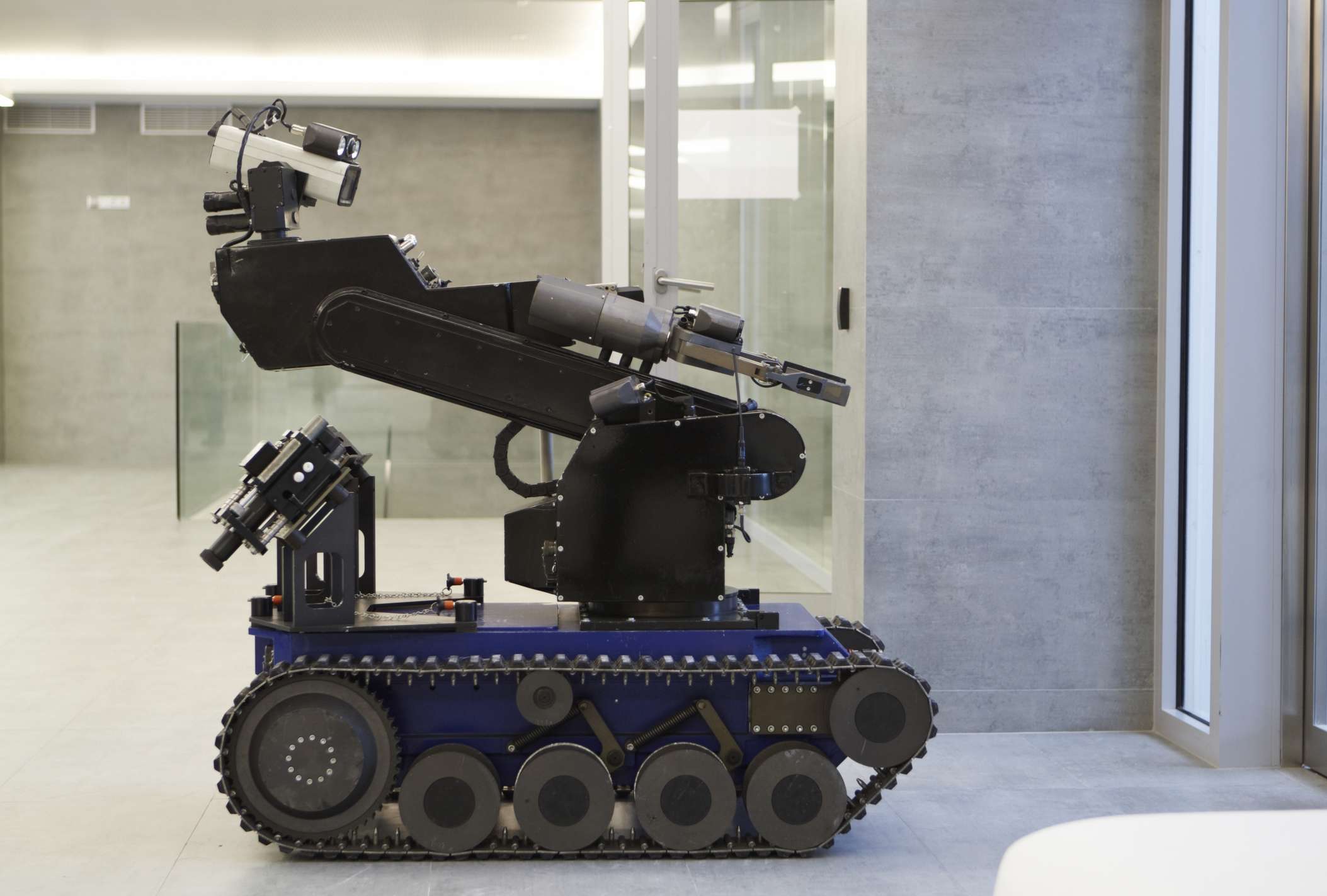 The Dallas PD's use of a "bomb robot" to take out cop-killer Micah Xavier Johnson is believed to be the first use of such machinery to deliver lethal munitions by police in the U.S.
Details were spare and slow to emerge in the first few days after the tragedy, but here's what we know now:
The Dallas robot is manufactured by Northrop Grumman, and per the Washington Post, "the device is driven by a human via remote control, weighs 790 pounds and has a top speed of 3.5 mph. It carries a camera with a 26x optical zoom and 12x digital zoom. When its arm is fully extended, it can lift a 60-pound weight. The "hand" at the end of the arm can apply a grip of about 50 pounds of force."
The robot was armed with an approximately one pound brick of C4 plastic explosive.
Dallas Police Chief David Brown reportedly instructed the robot's handlers to not blow up the school attached to the parking garage where Johnson was holed up (and intermittently negotiating and exchanging fire with officers), but otherwise the chief gave them the green light to use deadly force. 
Upon the robot's detonation of the C4, Johnson was killed and the robot's arm suffered some damage, but the machine is "still functional," the Post quotes Brown as saying.
Johnson had shot both police and civilians, was clearly unafraid to die, and continued to fire on the officers in his vicinity. Few would argue that this is a case where the justifiable use of deadly force was deployed. But it is completely predictable that such an unprecedented action by police would spur conversation about when it is and isn't appropriate to use automated machinery to kill dangerous suspects. 
From the national security website Defense One:
"My initial reaction was that we have just got onto the slippery slope," said Heather Roff, a senior research fellow at Oxford and a research scientist at Arizona State University's Global Security Initiative. "This is going to be very hard to put back and that the militarization of police capabilities means that they may now feel that it is reasonable to use robotics in this way to ensure compliance…If one doesn't have to talk to a subject and can demand compliance, then this may mean more forceful or coercive demands are made."
Police consultant and former police chief Dan Montgomery told CBS News that the possibility of law enforecement increasingly using armed robots in hostage or active-shooter situations doesn't necessarily trouble him, because "If you've got a robot that has C4 explosives, someone's got to detonate that, so it's the same as pulling a trigger." To Montgomery, these robots are just a technological advance on the sniper rifle, where deadly force can be deployed at minimal risk to officers. 
At the very least, if such technology is to be normalized, some clear boundaries and transparency must come with it as well. For example, if a robot controlled by a human has the technical capabilities to kill a dangerous assailant by blowing up a brick of C4 and still be functional — as in the case of the Dallas bomb robot —  then there's no reason that same robot can't also be equpped with several "body cameras" (to capture different angles and provide the most comprehensive perspective of the scene) which record directly to the cloud, helping to assuage any public doubts about the neccessity of deadly force used, as well as keeping mishaps like non-functioning or misplaced recordings to minimum.
According to the manufacturer, the model of robot used in Dallas had a camera, but the Dallas PD has made no mention of whether or not the robot was recording during the standoff or at the time it killed Johnson. Reason reached out to the Dallas PD to find out whether or not there is bomb robot-recorded footage of last week's siege which ended in Johnson's death, and we will update this post if we receive a response. 
A robot designed to defuse bombs instead being used to deploy one was bound to be controversial, and given that few would have anticipated MRAPs being used to serve drug warrants when SWAT teams made their debut in the 1967, it's important for the public to stay vigilant and demand accountability when the police grant themselves the right to use a particularly deadly new tool. 
Watch Reason TV's video on "7 Creepy Robots for Cops" below: