University Might Expel Student Who Criticized Black Lives Matter
Gay conservative Christian student also uses offensive "Dangerous Faggot" hashtag.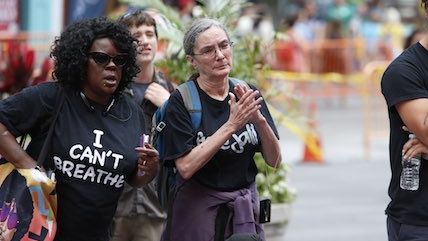 (Pacific Press/Sipa USA/Newscom)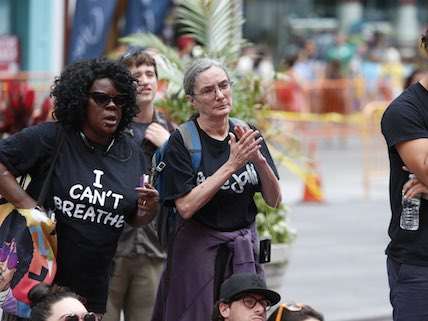 Administrators at Purdue University Northwest have demanded a meeting with a student who made controversial statements on social media—and even threatened to expel him.
The student, Joshua Nash, isn't sure exactly which comments got him into trouble—at a public university that is obligated to abide by the First Amendment, mind you—but suspects a Facebook post about Black Lives Matter might have done him in.
"Black Lives Matter is trash because they do not really care about black lives," Nash recalled writing on Facebook, according to The College Fix. "They simply care about making money and disrupting events for dead people." Someone reported the comment to Facebook, which removed it and suspended him for a month.
On Twitter, Nash describes himself as a gay conservative Christian who uses the pronouns "God, Overlord, and #DangerousFaggot," the latter being a reference to Breitbart tech editor Milo Yiannopoulos. A Purdue administrator told Nash that describing himself in such a manner was "homopohobic," according to The Fix.
When asked who [Nash] thinks may have reported him, or why, he said, "No idea. I didn't think it was offensive."

Since receiving the summons, Nash said he asked the university for more details during a phone call. He alleges that, over the phone, a campus official said his social media comments could result in his expulsion. The College Fix could not immediately reach a campus official Friday to confirm or deny the claim.
Nash's mandatory meeting with Student Assistance Director Andrew Pettee was supposed to take place on July 19, but has been moved to August. Pettee did not immediately respond to a request for comment.
Purdue University Northwest is a public university: administrators don't get to punish students for speaking their minds, even if they really don't like what the students have to say. Whether or not Black Lives Matter is an effective or intellectually honest movement is an important public policy question deserving of healthy debate at a university campus. And it's hardly appropriate for administrators to tell a self-identified gay student not to use certain words to describe himself—on Twitter—because those words are offensive to somebody else.
As is obvious, the university has no right to demand a meeting with a student if the ultimate purpose is to intimidate that individual into choosing different words.