Black Lives Matter Protesters Clash With Police, Sanders to Endorse Clinton, Third Homeless Person Killed in San Diego Attacks: A.M. Links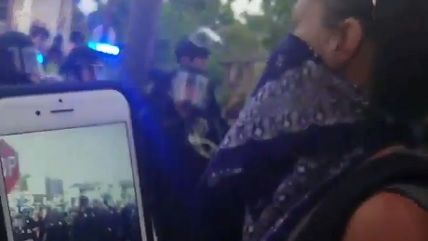 @nviv9/Twitter

CNN asks whether Dallas cop shooter Micah Johnson was "radicalized online." The mayor of Dallas came out against open carry, which has long been legal in Texas for long guns. Deray Mckesson was among 120 people arrested in Baton Rouge participating in what cops described as a riot in which more than 20 officers were injured. Police made more arrests Sunday in Louisiana while preventing protesters from entering a major interstate, and said protesters threw concrete at them; protesters in places like Memphis and elsewhere also tried to block major roads in their areas. A Harvard study, meanwhile, finds racial bias in police use of force, except in police shootings.

Bernie Sanders is expected to endorse Hillary Clinton in New Hampshire tomorrow. Ruth Bader Ginsburg suggested moving to New Zealand if Donald Trump won. Gary Johnson condemned recent prominent fatal police shootings as well as the attack on police in Dallas.
A third homeless person in San Diego has been killed in a series of attacks.
The U.S. evacuated its embassy in South Sudan of personnel as violence in the capital spirals out of control.
At least twenty people are dead and two hundred injured as police and protesters clashed in Kashmir over the killing of a separatist militant commander. The Indian government cut off the roads, Internet access, and the electric supply to the region in response to tensions.
Eight soldiers in Somalia were killed in a car bombing of a military training camp.