Dysfunctional Criminal Justice System the Star of HBO's The Night Of
Noir whodunnit pits the truth vs. institutional cynicism.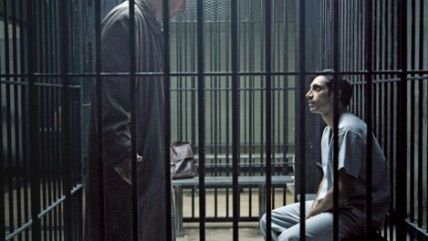 The Night Of. HBO. Sunday, July 10, 9 p.m.
Interrupted watching TV in the wee hours of his overnight shift, the medical examiner isn't pleased to learn that his services will be required at the scene where a corpse has been discovered. "What's the suspicious about it?" he skeptically inquires of the cop on the phone, then echoes the checklist that follows: "Knife wounds… stomach… chest… hands… There's no way this could wait for the day tour, huh?"
So it goes in the dismal world conjured up in HBO's transfixative new drama The Night Of, which follows a single case through a creaky, sputtering criminal-justice system that seems to be operating on muscle memory alone.
Even the newest recruits from the police academy are already putting more effort into devising creative ways to shirk work than to working cases. A homicide detective can be coaxed to a crime scene only by the assurance that it's a media-magnet case: "It's gonna get pretty photogenic out there."
Racial animus tinges virtually every interaction. "You want Jew time?" barks a judge at a black defendant complaining that his sentence is too long. "Do a Jew crime." Meanwhile, here's a witness' description of a murder suspect (who, by the way, is a Pakistani-American): He "look like he work at a deli or some shit … like those short skinny Puerto Rican-looking motherfuckers with beady eyes."
If that doesn't seem likely to aid in the police search, it doesn't matter much. In this slog to move paper and people along a conveyor belt from arrest to conviction to jail, the pursuit of actual truth has long given away to the simpler task of filling production quotas. Anything threatening that is shouted down. "The truth can go to hell, because it doesn't help you!" snaps a defense attorney at a client plaintively trying to explain what really happened to a woman he's accused of murdering. "I don't want to be stuck with the truth, not until I have to be."
If The Night Of seems something like Franz Kafka's reimagination of the Law & Order shows, its actual gestation is almost as strange. It's a remake of a BBC series, Criminal Justice, that was originally conceived as a vehicle for James Gandolfini. The pilot, written by Richard Price (who did the screenplays of Clockers as well as a few episodes of The Wire) and directed by Steven Zaillian (writer-director of A Civil Matter), was shot with Gandolfini and rejected by HBO in early 2013. Three months later, the network abruptly changed its mind—and then Gandolfini promptly died of a heart attack.
What has emerged from all that confusion and prolonged limbo is a stunning fusion of style and story. The Night Of is noir to its very soul, a world of thin walls and dripping pipes, lightbulbs that are too dim and bom-ba-boom hiphop that's too loud, of lost hope and curdled spirit. Most repeated phrase: "What you looking at?"
It's a world into which a young American-born Pakistani named Naz (Riz Ahmed, The Four Lions) blunders inadvertently. Seemingly one of those tiger-kid cliches—buttoned-down college kid whose idea of a good time is tutoring the basketball team in math—Naz pulls a minor jailbreak one night, lifting the keys to his father's cab to drive from their Indo-Paki neighborhood in Brooklyn into Manhattan for a party thrown by the jocks.
Instead, he's picked up by a hot but spacey girl who takes him back to her home for a night of pills, powders, tequila shots and mumblety-peg. When Naz awakes from a blackout, his memories are dim, but the girl's naked, hacked-up corpse is all too tangible. Panicked, he runs, the apparent murder weapon in his pocket, only to bungle his way almost immediately into police custody.
Even a precinct house full of Norman Rockwell soda-fountain cops would hesitate before picking at the few meager loose threads dangling from the open-and-shut case against Naz.
But The Night Of's cops and prosecutors are pure Hieronymus Bosch, interested solely in ramming the case through the system, and their only departure from open hostility is oily "help-me-help-you" ploys to evade Miranda warnings and other potential roadblocks to a quick conviction. Expert witnesses glibly tailor their answers to fit the prosecutor's case.
Naz's only ally is Jack Stone (John Turturro, in the role that would have been Gandolfini's), a seedy precinct-prowling defense attorney who specializes in pleading out street hookers and dime-bag possession cases. Stone, who shambles around in a flasher overcoat and wears plastic bags full of Crisco on his eczema-ridden feet, hasn't actually taken a case to trial in years, and doesn't plan to start with this one. "A knife-wielding, heavy-breathing sex brute is not a pretty picture," he advises the asthmatic Naz.
Like most of the defense attorneys in The Night Of, Stone is interested only in playing the system at its margins, not taking it on directly. "The fact is, it's a big club, the criminal-justice system," a cop warns Naz. "We can't exist without each other and we know it." Eventually—if only because he's nettled that nobody thinks he's capable of conducting a real defense—Stone tries to chip away at the prosecution's case. But it may be too late for his client, whose time in jail has stripped away the good-Asian-kid facade to reveal something much more forbidding, prompting the uncomfortable thought that no matter racist and ploddingly stupid the cops are, they may have the right man after all.
As unsettling as its ravaging critique of the criminal-justice system is, The Night Of is no mere polemic but an intriguing package of many pleasures. The intricacy of the trap Naz unwittingly springs on himself is fascinating, as is the whodunnit aspect that hums along quietly in the background for the first several episodes before shifting into a higher gear. And what does it mean that The Night Of stops clanking its fearful chains is during the bright, lively scenes shot in Naz's Brooklyn neighborhood? Is there a message about immigration written between the show's grim lines?
The Night Of 's performances start strong and only get better as new characters are introduced. Michael Kenneth Williams, who stole many a scene in HBO's The Wire and Boardwalk Empire with his portrayals of rough-hewn but intellectually agile gang-bangers, does it again in his role as Freddy, Naz's prison mentor and protector. But nobody in television this year can top Turturro's performance as the derelict lawyer Stone, so burned out that he's shocked at the discovery he still has a heart.
Footnote: That line about the truth going to hell (uttered, of course, by Jack Stone), drew a firestorm of complaints from British attorneys who felt unjustly maligned when it was spoken in the BBC series. Anybody have an idea of the over-under for objections from American lawyers, who over the years have become pretty accustomed to being portrayed as stupid, sleazy, and crooked. Where have you gone, Perry Mason, a lonely ABA turns its eyes to you… .