America Celebrates Fourth of July, FBI Interviews Hillary Clinton, ISIS Attack in Baghdad Kills 125: A.M. Links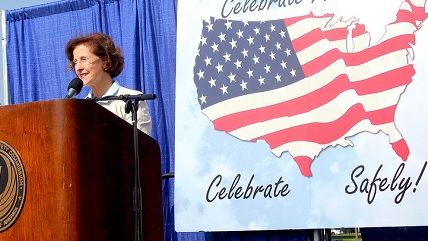 (Consumer Product Safety Commission)
CPSC

The United States celebrates Independence Day.

The FBI interviewed Hillary Clinton as part of its probe into her use of a personal e-mail server. Donald Trump says sources tell him Clinton won't face charges.
A suicide truck bomber killed at least 125 in Baghdad in an attack for which the Islamic State claimed responsibility. A suicide bomber near a U.S. diplomatic site in Saudi Arabia injured two security guards while killing himself.
One person is dead and two are injured after a brawl in a North Carolina country club.
A second alligator was involved in the attack at a Disney resort in Florida that killed a toddler, said the boy's father.
The Marlins beat the Braves 5 to 2 at Fort Bragg, in the first major league game ever played on an active U.S. military base.