Another Terrorist Attack in Turkey
Ataturk airport attacked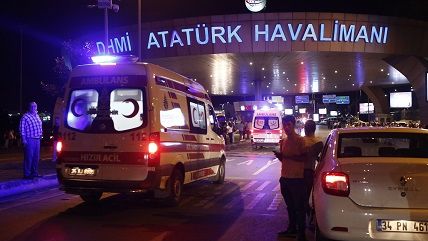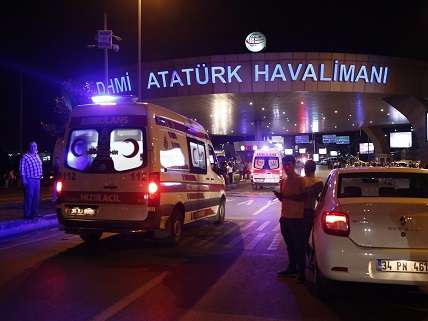 Three suicide bombers have killed at least 28 people and injured 60 more in two separate explosions at the Ataturk international airport in Istanbul, according to the Istanbul governor. According to the Turkish justice minister, at least one of the suicide bombers opened fire on travelers at the airport before blowing himself up.
The airport has been reportedly locked down, and flights in and out have been cancelled. Turkish president Recep Erdogan, previously the long-time prime minister, met with the prime minister and other government officials but has not made a statement yet.
There have been a number of terrorist attacks in Turkey, beginning with the bombing of a peace rally in Ankara, the country's capital, last October, for which the government blamed the Islamic State (ISIS), which operates in neighboring Syria and Iraq but which did not claim responsibility. Most of the attacks have been in Ankara or Istanbul, the country's largest city, and have been claimed by ISIS or the Kurdistan Freedom Falcons (TAK), an offshoot of the Kurdistan Workers Party (PPK).
Donald Trump and the Brussels Airport, which was the target of a terrorist attack in late March, were among those who reacted on Twitter. Trump called the incident "so sad," saying the country had to "do everything possible to keep this horrible terrorism outside the United States." The Brussels Airport wished victims, relatives, and airport staff strength and courage.