Supreme Court Rules on Abortion, Resignations over Brexit Vote, Clinton and Warren Team Up: P.M. Links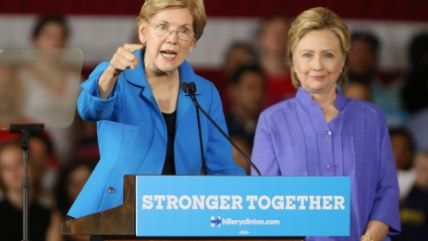 Mark Lyons/EPA/Newscom

The Supreme Court today struck down abortion restrictions in Texas that required abortion clinics to have the same medical standards as surgical centers. The court also ruled that a misdemeanor domestic violence conviction could be used to ban firearm possession. And finally, the Supreme Court unanimously threw out former Virginia Gov. Bob McDonnell's federal corruption conviction. That ruling may end up being important because the court declared that the definition of the crime must involve an "official action," and simply agreeing to talk to people or having meetings doesn't qualify.

Several high-ranking members of Britain's Labour Party have resigned in the wake of the U.K. vote to leave the European Union.
Officials cannot seem to find any evidence that Orlando mass killer Omar Mateen might have been gay and that it played any role in his attack on gay club Pulse.
Hillary Clinton and Sen. Elizabeth Warren are now besties. Donald Trump is not impressed.
The mayor of Sanford, Florida, was apparently carjacked by teens over the weekend.
Gov. Mike Huckabee has to pay $25,000 for playing "Eye of the Tiger" at a rally for Kentucky County Clerk Kim Davis without paying for the rights.
Today's Twitter outrage comes courtesy of The Daily Show, which is apparently still on the air.
Follow us on Facebook and Twitter, and don't forget to sign up for Reason's daily updates for more content.