Reason Wins Record 7 Southern California Journalism Awards
From Star Wars to Donald Trump, alternative medicine boondoggles to drug war casualties, enjoy our prize-winning journalism from 2015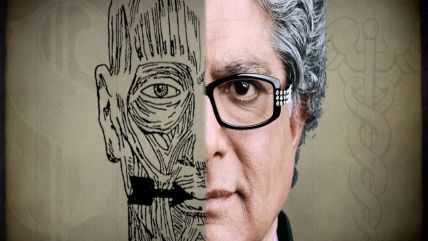 I'm happy to announce that the Reason Foundation's journalism division last night brought home a record-for-us seven first-place trophies at the 58th annual Southern California Journalism Awards, which honors publications and work emanating between San Ysidro and Santa Barbara, as administered by the Greater Los Angeles Press Club. The seven winners, culled from an also-record-for-us 19 nominations, were the following:
Best Television/Film Documentary Under 25 Minutes: Todd Krainin, for "The Alternative Medicine Racket: How the Feds Fund Quacks." Here is what the judges said: "An absolute flood of interesting information presented in an intellectual but easily digestible short documentary. I could have easily watched a full-length documentary produced by Krainin on this subject—or any subject. Fantastic work."
So fantastic that Krainin's doc won another trophy, for Best Science/Health/Technology Reporting across all platforms and media types. The judges in that category said: "There are benefits to some established practices that fall under the 'Alternative Medicine' category, but this detailed report shows the dangers of relying on unscientific methods to confirm preconceived biases. That attitude actually diminishes any positives and ultimately damages." Watch and learn:
Another cross-platform winner was "Star Wars Libertarian Special," by Austin Bragg, Meredith Bragg and Andrew Heaton, for Best Humor/Satire Writing. "A witty and satirical mashup of blockbuster movie and contemporary events," one judge wrote. "It made me think, and it also made me laugh out loud several times—which is really the point of humor." Enjoy:
Joining our videographers on the cross-platform podium was Damon Root, for Best Political/Government Reporting, with his "Trump vs. the Constitution: The misguided attack on birthright citizenship." Judges: "A clear, comprehensive and essential in-depth look at the U.S. birthright citizenship topic, that ultimately demonstrates the flawed rhetoric of Donald Trump and many Republicans on the subject."
You may enjoy the judges' citation for our Best Magazine Entertainment Review/Criticism/Column, won by Glenn Garvin, for his "The Unbearable Awfulness of Campaign Lit: We read seven 2016 presidential wannabes' books so you don't have to." To wit: "Often sidelined in political debate by their unique mix of policy perspectives, libertarians are perhaps uniquely situated to offer the kind of commentary that access-driven journalists too often eschew. Garvin offers a fine example with a piece that is as accessible to readers as it is demanding of its subjects, pulling no punches for politicians of any persuasion."
Often sidelined??? No, we'll take it. Here's another print winner, Greg Beato, for Best Magazine Commentary. Winning entry: "Cameras in the Court: Will allowing recording devices unleash the Supremes' inner Judge Judys?" The judge's opinion ran long:
Greg Beato takes first place for advocating that the U.S. Supreme Court adopt transparency and inclusiveness over pomp and cronyism to bring cameras and TV broadcasting into the courtroom. His "Cameras in the Court" column starts with an easy-to-read, engaging commentary on a 1935 Supreme Court building designed to express as much majesty and unimpeachable authority as $3 million worth of marble could buy. Beato then fast-forwards to the Supreme Court's present adherence to longheld procedures, which he terms increasingly at odds with contemporary standards expectations of government openness. Along the way he includes a variety of viewpoints from several Justices, all adding to the substance of the story. The verdict: A winning Commentary, and our compliments go to the plaintiff.
Last but not least is Best Television/Film Investigative Story: Anthony L. Fisher, for "The Disposable Life of a 20 Year-Old Confidential Informant." The piece, about the mysterious death of a college kid named Andrew Sadek who had been coerced by cops to be a drug informant, was later covered by 60 Minutes, which in turn led to congressional calls for informant reform. The judges called Fisher's work "Well written, well put together. Raised good questions throughout. Kept the audiences interested and engaged." Take a look:
Reason also picked up three second-place finishes at the awards, for:
* Public Service News or Feature (any platform): Robert W. Poole, Jr., for "Who's Going to Pay for New Highways? Our Interstates are wearing out. Here's what we need to do to fix them."
* Political/Government Reporting (any platform): Timothy P. Carney, for "The Crony Capitalism Litmus Test: The Ex-Im Bank won't survive 2015—if the GOP is serious about free market principles."
* Magazine Commentary: Veronique de Rugy, for "Big Data, Big Business, and Big Government: How bureaucrats are keeping people in the dark about the Export-Import Bank."
And we won three bronzes as well:
* Public Service News or Feature: Elizabeth Nolan Brown, for "The War on Sex Trafficking Is the New War on Drugs: And the results will be just as disastrous, for 'perpetrators' and 'victims' alike."
* Television/Film News Feature: Zach Weissmueller, for "Detained for 19 Days: Immigration Checkpoint Refusal Gone Wrong."
* Television/Film Entertainment News or Feature: Paul Detrick and Alex Manning, for "The Star Wars Economy is Bigger Than You Think."
None of this work and recognition would happen without your generous support, whether via direct support of the Reason Foundation, the 501(c)3 nonprofit that publishes all of our journalism (donate at this link!), or your subscription, or just by reading along at home. So thank you!