McConnell Won't Say Whether Donald Trump is Qualified To Be President, Spain Elections Lead to Second Hung Parliament in Six Months, Chile Beats Argentina: A.M. Links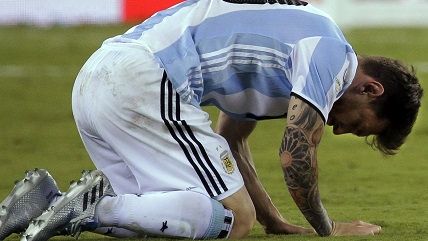 (RAY STUBBLEBINE/UPI/Newscom)
RAY STUBBLEBINE/UPI/Newscom

Some media outlets are pushing poll results that show a huge lead for Hillary Clinton but look different when Gary Johnson is included. Senate Majority Leader Mitch McConnell (R-Ky.) won't say whether he thinks Donald Trump is qualified to be president, while Rolling Stone used Brexit to imply people shouldn't vote for Jill Stein.

"Anti-fascists" in California are "proud" that their counterprotest at a white nationalist rally sparked violence.
The minister of environment in Somalia was killed in an attack on a hotel, for which Al-Shabaab took credit.
Elections in Spain yielded a hung parliament for the second time in six months.
Ten children and adults were injured in a rollercoaster accident in Scotland.
Researchers in China say ancient insects would wear the exoskeletons of other bugs to disguise themselves.
Lionel Messi missed a penalty kick for the first time in his career as Argentina fell to Chile in the Copa America final.