Trump in Scotland: Would Put UK at 'Front of Line' for Trade Deal, Support Scottish Independence
Says the British "took their country back," just like Americans will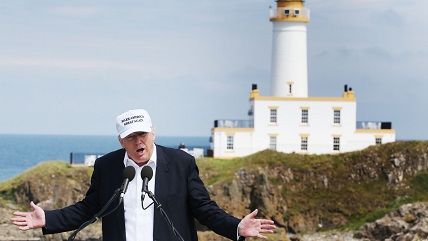 (Jane Barlow/ZUMA Press/Newscom)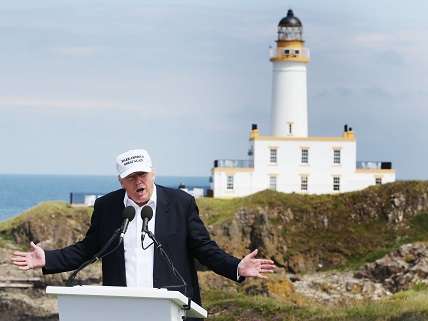 Donald Trump appeared in Scotland a day after the United Kingdom voted to leave the European Union, for the re-opening of the golf resort. Most of his initial comments, fifteen minutes worth, were about his properties, but the presumptive Republican presidential nominee then took questions from the press, which were mostly about the Brexit vote.
"I felt that that was going to happen," Trump said of the success of the Leave campaign, but noted that he told people "not to listen to him." He said he saw "parallels" between the Leave vote in the United Kingdom and his popularity in the U.S., saying the British wanted to "take their country back," just like Americans. "It's an amazing process to watch," he said of the referendum.
He said it wasn't clear how Brexit would turn out for the U.K., but that he believed in the long-term it will be a benefit even if there's some short-term pain. "If the pound goes down they're going to do more business," Trump suggested. "Let's see what the impact of that is. I think you'll see a lot of activity," noting tourism like that to his golf course would increase on a weak pound.  He suggested judging the consequences of the decision five years from now or later. Asked whether he was travelling with his foreign policy advisors, Trump said he was not but that he had spoken with them. "There's nothing to talk about," he said.
He declined to claim that his comments about Brexit influenced the vote, pointing out the criticism of his ego that would trigger, but suggested President Obama's comments in favor of the U.K. remaining with the E.U. may have led to its demise. "If he had not said it," Trump declared, "I think your result might've been different." Asked about Hillary Clinton's support for Remain, Trump said it was port of a long history of Clinton misreading the mood around the world.
"He's constantly dictating to the world what it should do, the world doesn't listen to him," Trump said of Obama, "but he's constantly dictating to other countries, so it doesn't stop at the water's edge for him." A reporter had asked Trump whether he was breaking the American political taboo of not taking politics past the water's edge.
"I don't think he should've done it," Trump said of Obama's Remain pitch. "It's not his country, it's not his part of the world." Asked about the possibility of Scotland voting to leave the United Kingdom—since the country overwhelmingly voted in favor of staying in the EU—Trump eventually said it would be "up to the people of Scotland."
Trump also insisted the United Kingdom would be at the "front of the line" for a trade deal after it left the EU. Obama had warned the British they would be at the "back of the queue" if they left the EU. Trump suggested Obama had said that because he did not think Leave would win.
"I think David Cameron is a good man, but he didn't get the mood of the country," Trump said of the outgoing British prime minister. Trump also claimed that Cameron was "negotiating" to meet with him, but that "right now he probably doesn't want to meet with anybody." Cameron announced this morning he would be resigning in favor of a pro-Leave Conservative.
Questioned about the wisdom of taking a day off to visit his golf course in Scotland, Trump insisted he was there to support his children, who worked on the renovations of the resort. Trump was also asked about the promotion of his brand that comes along with his campaign. "If I wanted to do good for my brand," Trump insisted, "I wouldn't have done this," pointing out to severed business relationships like the one with Macy's over his comments last June about illegal immigrants. "Once you're in politics you'll have 55 for you, 45 against," Trump observed. "For my brand this was not a good thing."
One reporter asked why, then, Trump has been to so many of his properties while on the campaign trail. "Number one, I have the best properties, and you don't get to see that otherwise," he answered. "Why show you somebody else's properties? Number one, they're not very good." He also insisted he'd "love to give everything for nothing" but that federal election laws required his campaign to pay his companies for the use of their property and services.
Trump's first response to Brexit was a tweet claiming the crowd in Scotland was "going wild over the vote" was excoriated by the Twiterrati because Scotland voted for Remain by a 24 percent margin.