Mike Flynn, Editor at Breitbart News and Former Reason Foundation Director of Government Affairs, Dead at 48
Founding editor of Big Government and 2015 congressional candidate died Thursday of unknown causes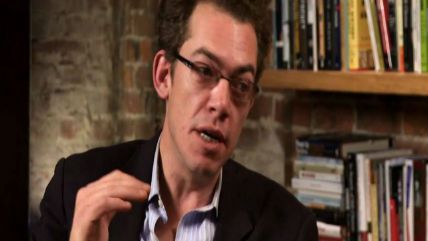 The Reason family is saddened to learn that our friend and former colleague Mike Flynn died unexpectedly last night, according to a statement released by his wife, Holly Flynn Pitt-Young. He was 48.
Flynn, who walked, talked and dressed like a 1940s movie character, had a long and colorful career in and around Republican politics. A sixth-generation native of Central Illinois, he could talk for days about the Prairie State's infamous political corruption, and if he didn't know personally where the Democrats had buried the bodies, he maybe knew a guy who might have a map. A close personal friend of the late Andrew Breitbart, he was the founding editor of Big Government, which he discussed with Reason TV back in 2009:
He also ran as a Tea Party insurgent in a special 2015 election for the 18th congressional district in Illinois, drawing endorsements from the likes of Ted Cruz (Flynn was slated to be a Cruz delegate at the upcoming Republican National Convention), but lost by a wide margin.
Prior to collaborating with Breitbart, Flynn worked here at the Reason Foundation from 2007-2009 as the director of government affairs, where he kept an eye out for regulation creep, put together coalition discussions on thorny issues such as immigration, and also contributed our journalistic output.
In that latter category he contributed to three of my favorite pieces of journalism during my tenure as editor. The first was this legal-immigration flow-chart, which he compiled with the help of Shikha Dalmia and Terry Colon, under the headline "What Part of Legal Immigration Don't You Understand?"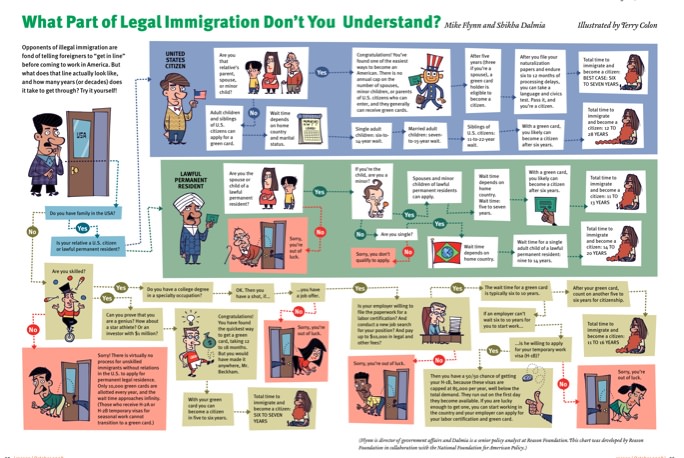 That illustration (see this PDF for a larger image; thanks Crusty Juggler!), which helped drill down Flynn's long-held point that fixing illegal immigration starts first by addressing the problems with the legal variety, won a first place Southern California Journalism Award.
The second Flynn highlight was a quick online piece during the height of the fall 2008 financial crash sketching out the roots of the crisis; we published an updated/expanded version in our next print issue. At a time when the chattering classes were throwing an even bigger hissy fit over the economics of the unwashed than they are this morning over Brexit, and when even ostensibly free-market commentators were clamoring for bailouts, Flynn managed a very calm and clear-eyed economic mini-history that explained, contrary to prevailing opinion, how government overreaction both led to and would certainly exacerbate the crisis.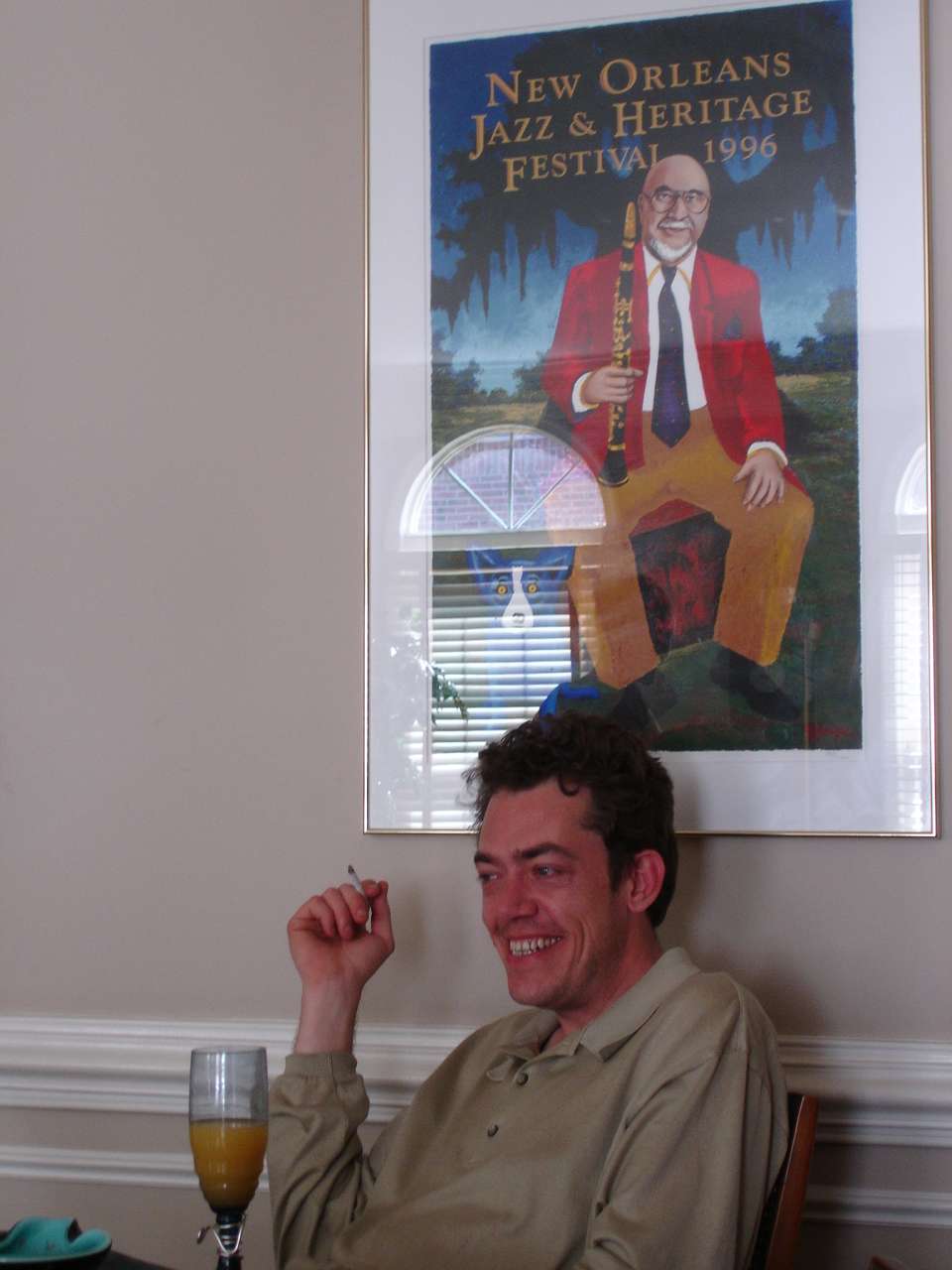 The third Flynn piece, in collaboration with Adam B. Summers, was an extension of that bailout analysis, which applied unforgiving math to the common 2008-09 assertion that state governments had somehow been starved for cash, and thus required bailout money from Uncle Sam. In "Failed States: After a long spending binge, governors go begging for a handout. It won't be their last," Flynn and Summers pointed out that in the comparatively prosperous period between 2002 and 2007, state revenues increased by 81 percent (compared to inflation+population growth of 19 percent), and yet the laboratories for democracy chose to spend away the surplus rather than save for a rainy day. We illustrated the piece with a grim cover picture of then-California Gov. Arnold Schwarzenegger (whose record came under additional Flynn scrutiny), and man, was the governor's office pissed.
Having spent decades in brass-knuckles politics, Flynn had a detailed and finely honed dislike for "the enemy"—public sector unions, state-funded activist networks, and the like. He was enthusiastic, almost gleeful, about Wisconsin Gov. Scott Walker's full frontal assault on the machinery of Democratic funding, and was always trying to get me to understand just how bad those bad guys were. He had forgotten more about the nuts and bolts of politics and campaigning and lobbying than 99 percent of political journalists will ever learn, yet was always patient about explaining things over a drink or three, preferably in a place that encouraged cigars.
Over at Hot Air, Larry O'Connor I think captures Flynn's spirit well:
To his friends, Flynn was fiercely loyal, quick witted, intelligent and relentless in his defense of America's founding ideals and the notion that individuals should have the right to live their lives without intrusion of the federal government in their lives. To his political adversaries he was tenacious and formidable yet quick with a joke and a cocktail at the end of a long, hard-fought battle.
I have shared many laughs with the man over the years, but never have I seen him light up more broadly than when talking about the love of his daughter Riley, who our heart goes out to today. Mike is also survived by his ex-wife, our friend Maura Flynn. You can read more obits in The State Journal-Register and Herald-Whig. RIP.