David Cameron Stepping Down as British Prime Minister
Wants next prime minister to start negotiations to exit the European Union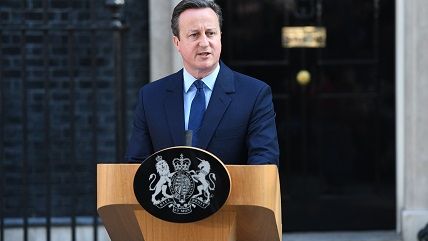 (Andrew Parsons/ZUMA Press/Newscom)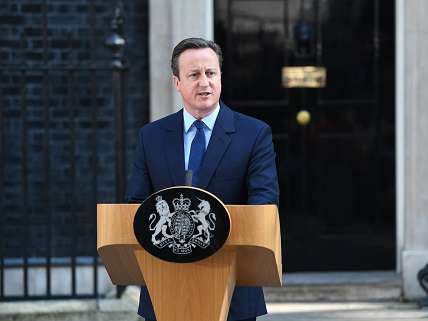 Speaking the morning after the United Kingdom's historic referendum in favor of leaving the European Union, U.K. Prime Minister David Cameron announced he would be stepping down from office to allow a pro-Brexit Conservative to lead the government as it departs the European Union. He said he would "steady the ship" but that by October there should be a new "captain."
Cameron said he believed the next prime minister should invoke Article 50 of the Lisbon Treaty, which triggers negotiations for an exit from the EU, and that he would be visiting the European Council, made up of the heads of state of European Union members. The Conservative party will meet within four months, and Cameron said a timetable for his resignation and subsequent EU negotiations would be laid out later.
Cameron was re-elected in 2015 after leading a coalition government with the Liberal Democrats since 2010. He promised during his re-election campaign to renegotiate the United Kingdom's place in the EU and bring it up for a referendum, which was held yesterday.
Among pro-Leave Conservatives are MP and former London mayor Boris Johnson, and MP Michael Gove, who was one of the co-conveners of the committee in support of Leave, along with Labor member of Parliament s Gisela Stuart.
Stuart pointed out on BBC earlier tonight that immigration policy, one of the points of contention during the Brexit debate, would be less "discriminatory" with the United Kingdom outside the EU, because more immigrants from Commonwealth countries would be able to enter the country. Daniel Hannan, a Conservative member of European parliament, insisted no one was "pulling the drawbridge up" and that immigration policy would only change moving forward.
Donald Tusk, the president of the European Council, said he spoke to the members of the European Council about the possibility of the Brexit and that "on behalf of the 27 leaders I can say we are determined to keep our unity at 27," calling the EU "the framework for a common future." He also proposed a "wider reflection on our union."
Tusk noted that the process would not begin until the U.K. formally invoked Article 50, and there would be "no legal vacuum until the U.K. leaves the EU," with European citizens in the U.K. retaining the "rights and obligations" of their citizenship until that time.
Meanwhile, Mark Carney, the governor of the Bank of England, says the bank is ready to spend up to 250 million pounds to boost the sterling, and noting that some volatility was to be expected as the U.K. forges new relationships with the rest of the world.