5th Place Libertarian Presidential Finisher Marc Allan Feldman Dead at 56
Beloved physician was known for his good humor and 'I'm THAT Libertarian' rap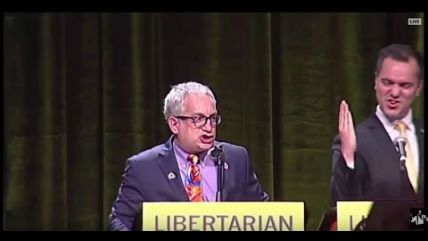 Of the many odd and wonderful things that happened last month at the Libertarian National Convention in Orlando, one of the oddest and wonderfulest came during the presidential debate, when Marc Allan Feldman, a diminutive wiseacre anesthesiologist at the Cleveland Clinic beloved by virtually every squabbling camp under the Libertarian big tent, chose as his closing statement to uncork this unlikely unity rap:
Such were the good vibes for Feldman that presidential nominee Gary Johnson asked Feldman to give a nominating speech for controversial vice presidential pick William Weld. Feldman agreed in the spirit of unity, though even he could barely muster a kind word for the eventual VP nominee.
Feldman, 56, was found dead yesterday in a Brook Park motel, reported The Plain Dealer. Causes of death are currently unknown. Libertarian National Committee Chair Nicholas Sarwark spread the sad news on Facebook:
The world is a darker place this morning. We have lost one of the lights of the Libertarian Party, Dr. Marc Allan Feldman. My deepest condolences go out to his family on their loss.

I had the privilege of working with Dr. Feldman on the Libertarian National Committee. After growing up in Washington, D.C., cynical about politics and politicians, he spent most of his adult life not even voting.

In the Libertarian Party, he found a politics of empowering people to be their best selves, free from the control of governments and bureaucrats. It spoke to him in a way that awakened something. He was tireless and dedicated to sharing that vision with everyone he met, but most importantly, with those who didn't participate, didn't vote, and didn't have a voice.
"I'm shocked and saddened to hear this unfortunate news," wrote fellow presidential contestant John McAfee on Facebook. "Less than a month ago, we share[d] the Libertarian National stage together. I had tears of laughter while listening to this outstanding Libertarian Rap routine. Today, I have tears of a different kind. We will all miss him. Remember this man and his words. They apply to us all. He was our kind of Libertarian.
Over at The Libertarian Republic, Avens O'Brien posts Feldman's 20-minute presidential campaign video, in which he talks about his life story.
RIP.