UC-Irvine Punishes College Republicans After Milo Yiannopoulos Event Paperwork Mix-Up
The group won't be allowed to reserve event space for one full year.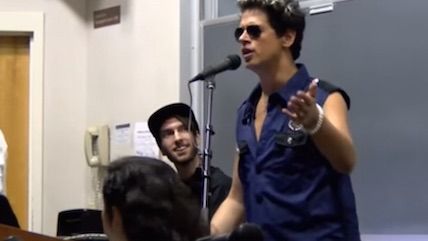 (Screenshot via Ron Robinson for RSBN / Youtube)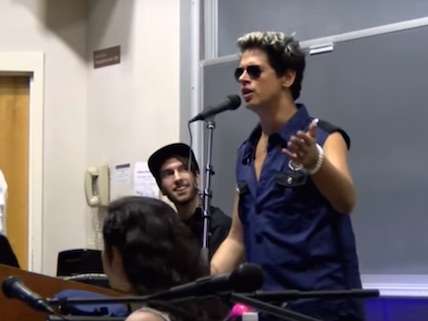 The University of California at Irvine has prohibited the College Republicans from reserving event space for one full year.
Administrators claim the group didn't file the proper paperwork when it brought Milo Yiannopoulos to campus to speak. But a representative for the CRs wonders if UC-Irvine was actually upset about the fact that she had plans to invite Yiannopoulos again.
In an interview with Breitbart—the conservative news website Yiannopoulos works for—CR President Ariana Rowlands said, "This is nothing more than a punishment for hosting Milo and a punishment and a deterrent for wanting to host him again."
Breitbart described the punishment as a ban, but the university disputes that characterization. UC-Irvine spokesperson Cathy Lawhon told Reason that the CRs "have not been suspended." According to Lawhon, the group was informed that it needed to provide proof of insurance for the private security firm hired to protect Yiannopoulos during the event. It failed to do this, "which resulted in a revocation of their privileges to reserve space through Scheduling and Event Services," until spring of next year.
Lawhon clarified that the CRs were not banned from campus.
But Rowlands claims the university did not explain the proof-of-insurance requirement, or enforce it consistently. She says she recently met with the associate dean of students and director of student life about hosting another Yiannopoulos event. Just four hours after administrators learned of Rowlands' intentions, they told her the group would lose its events privileges.
The university has the right to create rules in order to facilitate safe and productive speaking events. It may also punish students for breaking these rules, as long as it enforces them fairly, without consideration for the ideological views of said students. I'm not sure what happened here, but if I were a university administrator, I would be reluctant to make life difficult for a student-group for an entire year because of a mere paperwork mix-up.