Californians Will Get Their Choice Between Coke, Diet Coke for the Senate
Top-two primary system guarantees a Democratic replacement for Sen. Barbara Boxer.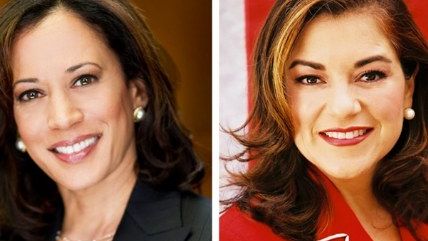 (California A.G. Office/House of Representatives)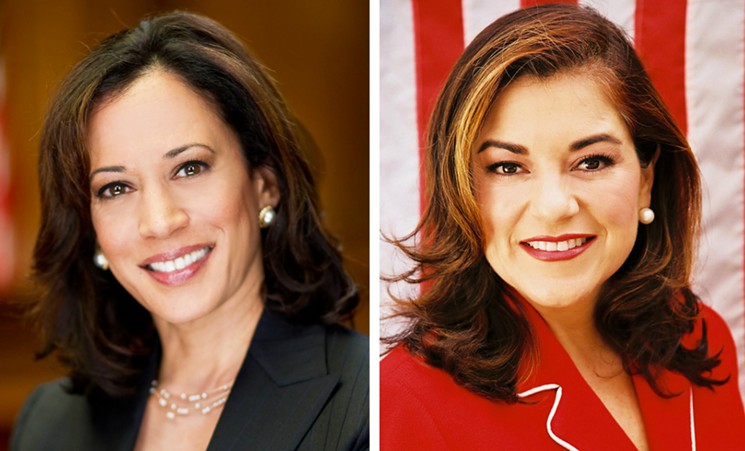 Hey Californians, here are your options to replace retiring Sen. Barbara Boxer in the U.S. Senate come the fall: You can vote for a Democratic progressive liberal currently serving as the state's attorney general, Kamala Harris; or you can vote for a Democratic progressive liberal 10-term member of the House of Representatives, Rep. Loretta Sanchez.
Those are your choices. Wondering where a Republican or third-party option might be? You're not getting one.
You can thank California's relatively recent implementation of a top-two primary system. For statewide and congressional elections primary voters can select from all-comers: Democrats, Republicans, and even third-party candidates. The two candidates who get the most votes face off on the November ballot, regardless of party affiliation. Everybody else is shut out. Fundamentally, this means that the primary vote is really the election for these seats, and the November vote is a run-off.
Republican alternatives didn't even crack the 10 percent threshold. Mind you, California's Republican Party participation has dropped much more than Democratic Participation. For registered voters, 43.1 percent are Democrats and just 27.6 percent are Republican. A full 24 percent have no party preference (this number has steadily been increasing since 1999). It is very likely that whoever landed the Democratic nomination was going to have a huge advantage in the November election.
But it's also worth reminding that the Republican presidential nomination was already decided, and there was much less reason for Republicans (or independents) to participate in the primaries unless they understood that it was yesterday's vote that determined whether a Senate candidate that represented their views appeared on the November ballot at all.
The top two primary process has its defenders over the basis that it can make races where one party is so thoroughly dominant of the district more competitive by requiring appeals to all voters rather than just party members. But these defenses completely ignore the reality that primary vote turnout is so much lower than general election turnout. This chart over at the L.A. Times shows how primary election turnout in the state remains low in the years since this system has been implemented and compares it to the general election. The June 2014 primaries had the state's lowest turnout at 25.2 percent. This is not a system that "opens up" elections.
And there are some other issues when this system is applied to a statewide race as opposed to a single Congressional district. A statewide race necessarily requires a huge investment in time and money. And this process requires that investment during the early primary process. It makes it even more important to have a network of donors and supporters earlier in the process in order to compete. Is it any wonder that the only two candidates to crack double digits were the state's very well-known attorney general and a very connected 10-term member of Congress? Who else would be able to raise the money to spend statewide during the primaries?
But there's implications beyond California's borders, too. This is a statewide race for a seat in the United States Senate, which is responsible for lawmaking that represents all Americans. It's removing a seat from play for party control over a federal lawmaking body. It inherently makes it easier for one party to take or keep control over a legislative body and therefore impacts the amount of influence and say those who are not liberal Democrats may have over laws that affect them everywhere, not just in the Golden State.
Even without a top two primary system, it's unlikely a Republican would be in a position to get elected to represent California in the U.S. Senate, but that's not the point. That the primary system is being used to shut minority parties out of the race for control of federal lawmaking powers is not good for the republic. It pushes the costs to run for state office earlier into the cycle, which benefits those with connections. And it deliberately puts the most important choices into the elections that have the lowest voter turnout.