Hartford's Ballpark: "The city has entered into a legal and financial quagmire"
The chances of baseball in the Connecticut Capital this year are 'slim'.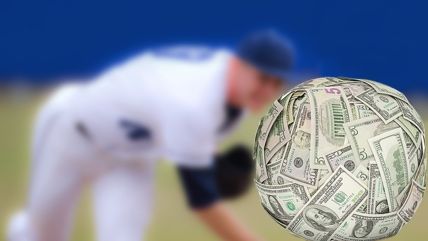 The chances of baseball in Hartford this year are "slim".
That's Mayor Luke Bronin's assessment after the city fired the developer and construction company of its still-unfinished, taxpayer-subsidized minor league ballpark yesterday. Bronin's decision follows last week's email from the developers estimating it would take at least 60 days before the stadium could comply with building codes. The termination is the latest hitch in a series of missed deadlines, cost overruns, and broken promises for the stadium.
"The bottom line is we lost confidence in DoNo and Centerplan's ability to complete this project," Bronin told WNPR. "If they remain on the job, there's no question there's no baseball."
Construction on Dunkin' Donuts Park has already come to a standstill. Padlocks and chains now prevent the developers from entering the site. It will be up to the developer's insurance company to cover the costs of completing the stadium.
Following the mayor's press conference, Jason Rudnick of Centerplan Construction blamed the city for some of the delays and cost overruns.
"At the end of the day, this is a political cover up. Because the city has entered into a legal and financial quagmire," Rudnick said. "What everybody's trying to do is to use us a scapegoat for the fact that the city knows it has a deficient design which it owns."
The $63-million, 6,000-seat stadium is hoped to kickstart a $350-million surrounding development, one of the biggest projects in the city's history.
"Obviously, it raises some big questions about whether they have the capacity to perform on the rest of that project," Bronin told the Hartford Courant.
Reason TV got front row seats to the insider dealing and mismanagement behind Dunkin' Donuts Park. Watch Another Troubled City, Another Subsidized Stadium to the Rescue to see how city-owned stadiums really get built.
UPDATE (6/9): The Courant reports that unauthorized and possibly illegal construction continues at the ballpark, in apparent violation of the mayor's order. All parties involved – the team owner, the former developer, and the city – all deny allowing work to continue, though the developer claims the city has sole control over access to the site.