Cobb County Has No Money Left for Public Parks Because They Gave it All to the Atlanta Braves
Voters supported funding parks, but not a billionaire's ballpark.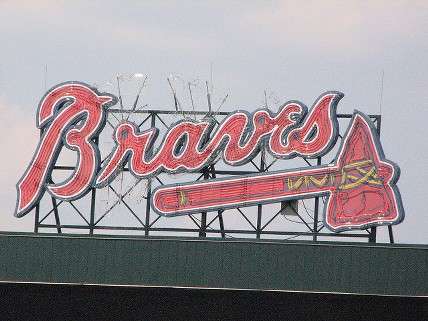 Cobb County (Ga.) Commission Chairman Tim Lee has broken the news to his constituents that their taxes will have to be increased to complete the funding of a $40 million bond — which they voted overwhelmingly in favor of — to build public parks. To date, only about half of that bond has been funded, according to AJC.com.
But in a jaw-droppingly cynical act of crony capitalism and untransparent government, the county has found a way to come up with approximately $400 million in public funds to subsidize the new stadium being built for Major League Baseball's Atlanta Braves, even though it denied the public a vote in the matter.
We have previously noted here at Reason that the Braves are currently the worst team in MLB, but their billionaire owner John Malone has tried to comfort team shareholders that their investments are safe because, "the Braves are now a fairly major real estate business as opposed to just a baseball club." Malone is right, in addition to getting the residents of Cobb County to build him a totally unnecessary cash-cow of a stadium, the Braves' minor league system is dotted with publicly-financed ballparks in cash-strapped small towns throughout the Deep South.
It gets better (that is to say, way worse), as Barry Petchesky writes in Deadspin:
The Braves' ballpark is already a new low in the sordid game of publicly financed stadiums, but maybe this can be an instructive moment. Every time a city or county funds a stadium through hotel taxes or by dipping into a general fund, local politicians and team cheerleaders proudly say that residents won't see their own taxes go up. This is a damned lie.

Not only does putting public money toward a stadium take away money that could actually go to the public good (SunTrust Park was approved at a time Cobb County schools were desperately slashing budgets), but the general fund is no longer there to prop up existing and future bonds, forcing taxes to be raised to pay off those debts.

"Cobb County homeowners will not see their taxes go up one penny" to fund the Braves' stadium, according to the FAQ on CobbHomeOfTheBraves.com, an astroturfed website supporting the stadium.
For more coverage on why you should never, ever, ever, ever, ever, ever, ever publicly finance sports arenas, click on any of the hyperlinks.