Bernie's Last Stand, Trump's Continuing Collectivism, and Johnson's New Hope
All that, plus a Krist Novoseli? GarJo endorsement on tonight's Kennedy, 8 p.m. ET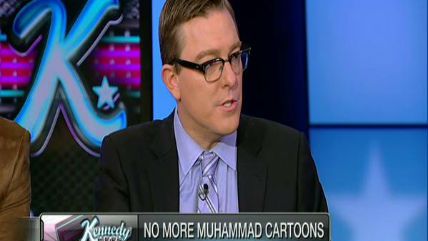 You know how the former Nirvana bassist and current independent-minded political thinker Krist Novoseli? is sweet on the candidacy of Libertarian Party presidential nominee Gary Johnson? He'll talk about it on tonight's Kennedy (Fox Business Network at 8 p.m. ET, with a repeat at midnight),
Speaking of GarJo, he had some positive polling news today—11 percent nationally, according to IBD/TIPP, and 16 percent in Utah, according to Gravis Marketing. If Bernie Sanders indeed loses the Democratic delegate race Tuesday night, we could see the same thing that happened after Donald Trump sewed up the GOP race last month: a tidal wave of Internet searches on terms like "third party," "Libertarian Party," and "Gary Johnson." Which we'll also discuss.
I'm on the Party Panel with Meghan McCain and comedian Bonnie McFarlane. We get into Trump's judicial collectivism, Hillary's allegedly poor behavior toward Secret Service agents, and the allegedly misogynistic reaction to the all-lady Ghostbusters reboot.