Andrew Cuomo's Executive Order on Israel Boycott Is Brazenly Autocratic
Governor says the legislative process is "a tedious affair."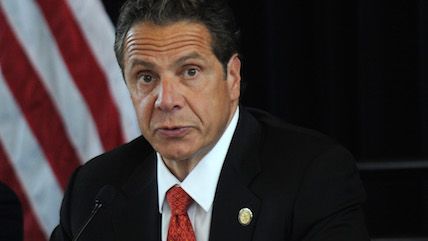 (Van Tine Dennis/ABACA/Newscom)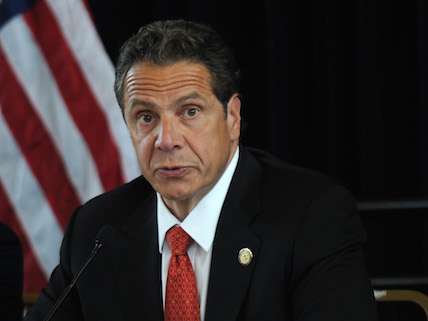 Lamenting that the legislative process is too "tedious," New York Gov. Andrew Cuomo issued an executive order Sunday that will punish private firms for engaging in anti-Israel activism. 
It's an outrageous move for the Democratic governor, and runs counter to the principles of free speech and free expression. This is a sort of government-enacted censorship, conducted without any input from a legislative body. 
"I am signing an executive order that says very clearly we are against the BDS movement," Cuomo wrote on Twitter. "If you boycott Israel, New York will boycott you." 
BDS refers to the movement to "boycott, divest from, and sanction" the state of Israel for its alleged mistreatment of the Palestinians. Anti-Israel activists want both private firms and the government to refuse to do business with Israel, or profit from institutions that do. The movement has strength on college campuses, where it continuously puts pressure on university administrations to take a stand against Israel. 
This displeases the governor of New York. 
"This BDS movement is an economic attack and generating a corporate enemy to Israel," he said. "We cannot allow that to happen." 
He made the announcement during a speech to Jewish leaders on Sunday. According to The New York Times, it empowers the government to compile a list of firms that support BDS. State agencies will be prohibited from doing business with any company on the list. 
According to the executive order, Mr. Cuomo will command the commissioner of the Office of General Services to devise a list over the next six months of businesses and groups engaged in any "boycott, divestment or sanctions activity targeting Israel, either directly or through a parent or subsidiary." 

The list will be compiled from "credible information available to the public," according to the order, and subject to appeal by the companies and entities included on it. Once the designation process is completed, however, all executive-branch agencies and departments — which make up a large portion of state government — as well as public boards, authorities, commissions and all public-benefit corporations will be required to divest themselves of any company on the list. 
Cuomo did not bother asking the legislature to approve this scheme. Passing legislation "can often be a tedious affair," he remarked. Ah, the democratic law-making process: so inconvenient for autocrats. 
And make no mistake: this is a brazenly autocratic move on Cuomo's part. Unilaterally deciding that private businesses will be punished for failing to hold political opinions deemed favorable by the government is wholly illiberal. Companies should be able to engage in political activity—to support, or decline to support, various movements—without fearing retaliation from the government. 
Supporters of the order will point out that it only applies to dealings between private businesses and the government—it doesn't prohibit BDS-supportive companies from doing business with non-state agencies. It's true that the government's dealings are, in some sense, everyone's concern—our taxes fund them—and citizens deserve a say in how their tax dollars are spent. If they really want to de-legitimize the BDS movement via government means, they should petition their legislators to consider the matter. But Cuomo's executive order, which was enacted without any legislative oversight, or direction from the citizens, is pure McCarthyism. 
Lastly, I'll note that several left-leaning critics of the executive order questioned whether any so-called free speech absolutists would condemn Cuomo.  
"Western governments are literally outlawing BDS activism with little objection from newfound free speech crusaders," wrote Glenn Greenwald. 
Greenwald (and others) believe "free speech crusaders" turn a blind eye to censorship when the allies of Israel are the censors. I'm sure this is true in some cases—I'm willing to believe that conservative anti-censorship folks, in particular, overlook such things because they are partial to Israel.
In any case, let it not be said that this free speech crusader was silent. Everyone should condemn Cuomo's authoritarian streak, because government-enacted suppression of political speech is the most dangerous kind of censorship.