Movie Review: Popstar: Never Stop Never Stopping
Andy Samberg and his Lonely Island pals in solid-gold form.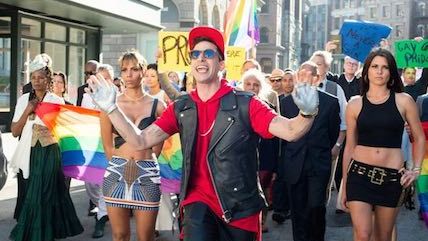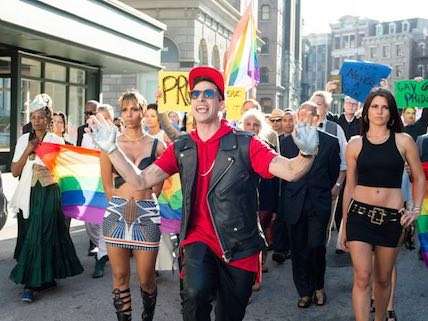 If scene-wrecking satire were enough to actually wreck the pop-hip-hop showbiz scene, then Popstar: Never Stop Never Stopping would do the job. Unfortunately, key artifacts of this bloated cultural sphere—the nitwit rhymes, the oozing insincerity, the Justin Bieber tour documentaries—are now doing the job themselves. But if they ever stop never stopping (and of course they will…right?), this movie could take some retrospective credit.
As a Lonely Island project—written by Andy Samberg, Akiva Schaffer, and Jorma Taccone, and directed by Schaffer and Taccone—the picture is a grab bag of often brilliant skits and zingers and wild mock music videos. There's also a story. It begins with The Style Boyz, a very Beasties teen-rap act that fell apart back in the day when one of the Boyz, Conner Friel (Samberg), rose up into solo stardom, leaving his partners, Owen (Taccone) and Lawrence (Schaffer), to fend for themselves. Lawrence decamped for Colorado to become a rural hermit, but Owen stuck around for a paycheck gig as Conner's DJ (key tech requirement: an iPod).
Conner, now re-styled as Conner4Real, scored a massive hit with his first solo album, Thriller, Also. Now, he's launching a world tour in support of its followup, Connquest (which lists 100 producers in its credits). But the album tanks right out of the box. Conner is shocked to see that Rolling Stone has given it a "shit emoji," but is relieved to discover at least one positive review—on some site called The Onion. Although Conner has secured high-powered corporate support (a disastrous move), the tour steadily stumbles downhill.
The Lonely Island's gift for whipping up viral videos is well-known from the Digital Shorts they've done for Saturday Night Live, and Popstar features some of their most delirious work. Conner's bold gay-marriage anthem, "Equal Rights," seems most concerned with pointing out that Conner himself is, like, not gay. And "Finest Girl"—a sex song that enlists the late Osama Bin Laden for metaphor duty—is wonderfully scabrous. ("Invade my cave with your special unit.") The videos are of course packed with all the blaring neon and pyro and synchronized backup dancers that have long been familiar from the clips they mock.
The movie's Behind the Music format allows an overload of celebrity testimony, by notables ranging from Questlove, Nas, and Danger Mouse to Mariah Carey, Pink, and even Carrie Underwood (although Ringo Starr may have the funniest moment). Adam Levine appears as an onstage hologram. Longtime Lonely Island bud Justin Timberlake turns up as Conner's tour chef. Bill Hader is a guitar tech whose hobby is flatlining (it's a spiritual thing). Will Arnett does a wicked takedown of TMZ's Harvey Levin. And Sarah Silverman, playing Conner's publicist, offers a generous assessment of her client's work: "It may not be the music I listen to in my spare time," she says sweetly, "but it seems to make so many people… so much money."
We know the story isn't going anywhere surprising—not with talk of a Style Boyz reunion cropping up at every other turn. But there are some terrific surprises along the way—chief among them an al fresco press event featuring Seal, of all people, and a pack of wolves, of all things.
Over the course of the movie's tight 86 minutes, Conner remains entirely clueless. (If you come to this movie for character development, you've come to the wrong movie.) After a brief but ultra-humiliating wardrobe malfunction, he is un-soothed by his publicist's insistence that it only lasted a matter of seconds. "Ten seconds is an eternity," he yowls. "It's a third of the way to Mars."