Tricky Trump: A Total Sleaze or Just Unbelievably Dishonest?
Donald Trump and the $6 million in contributions to veterans groups.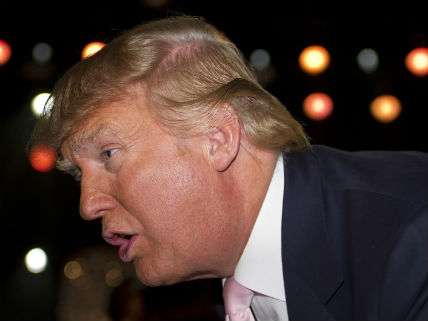 Yesterday, Donald Trump, the presumptive Republican Party candidate for president, held a news conference where he spewed falsehoods and invective in response to questions from the press and the public about when donations to veterans he had promised earlier were collected and distributed. Way back in Iowa, a miffed Trump skipped a candidate forum sponsored by Fox News because he thought he'd been treated too roughly by its reporters in an earlier debate. Instead, he organized a January campaign rally as a fundraiser for veterans at which he declared $6 million had been contributed. Good for him had he done so, even despite his truculent cowardice in refusing to face Fox News reporters again. 
But had Trump actually raised that amount of money, and if so, to whom did it go? These are reasonable questions that many in the press and public were asking. It turns out that Trump either lied in January about the amount of money he raised at the time in Iowa, or alternatively, that he was quite lackadaisical about asking contributors to make good on their promises and distribute funds in a timely fashion.
Thanks to persistent efforts by reporters, the public now knows that Trump himself did not cut a check for his contribution of $1 million until May 24; only after a Washington Post interview that raised questions about his fundraising claims. As the Post further points out: "On the night of the [January Iowa] fundraiser, Trump said he "gave" $1 million of his own. Earlier this month, Trump's campaign manager said this money had already been distributed (though he would not say to whom). But this was false. Trump had not given the money."
As NPR notes, "At least $1.9 million of the donations to veterans groups that presumptive Republican presidential nominee Donald Trump reported on [yesterday] came in last week, after Trump began responding to intense media scrutiny of his earlier claims about raising in excess of $6 million for veterans."
Again, it's great that Trump finally fulfilled his fundraising promises to veterans, but it is certainly not unreasonable to wonder if he would have done so without media scrutiny. At the press conference yesterday, Trump said that he'd been reluctant to "take credit" for his philanthropy. Say what? Mentioning several times on the campaign trail in the hope of gaining votes that he'd raised $6 million for veterans is already taking credit.
At the press conference yesterday, Trump went after the news media, calling some reporters "unbelievably dishonest," "unfair," "nasty," and "a sleaze." Ever look in the mirror, Donald?