RIP Tibor Machan
Remembering a reason editor and co-founder of the Reason Foundation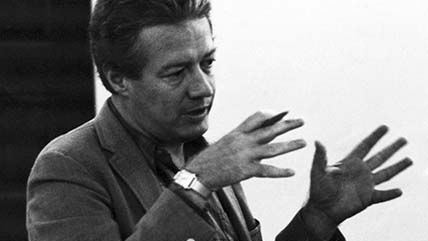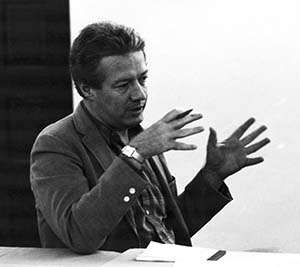 On March 24, 2016, Tibor Machan, former editor of reason and co-founder of Reason Foundation, died peacefully in his sleep, surrounded by his family, after a short illness. Here, his two co-founders memorialize his life and contributions to reason.
Manny Klausner
I first came in contact with Tibor in 1969, after listening to his radio show on KPFK in Los Angeles. He had a 15-minute weekly commentary on this left-wing Pacifica-affiliated station, at a time when the left was somewhat more tolerant of diverse views. He impressed me with his coherent and insightful observations about liberty, delivered in his robust voice. I contacted Tibor, and we quickly became friends.
At the time, I was a litigation lawyer at a mid-sized Los Angeles law firm. I had become a libertarian at New York University (NYU) Law School in the early 1960s, after studying with Sylvester Petro and Ludwig von Mises (who taught at the NYU Graduate School of Business) and becoming acquainted with Murray Rothbard, who was then working on his magnum opus, Man, Economy, and State.
There was an embryonic libertarian movement, barely visible to the general public. During that period, there were several small-circulation libertarian magazines, mostly short-lived. Tibor asked me if I'd like to come to Santa Barbara to meet Bob Poole and talk about taking over a magazine called reason.
We were all young and highly motivated, and we were all libertarians. Tibor and Bob were more influenced by Ayn Rand, while Mises and Rothbard were my mentors.
Tibor gave me excerpts from Atlas Shrugged to read. Although he was a devoted admirer of her work, Tibor had been "excommunicated" by Rand in the 1960s for a letter he sent to her to clarify a question he had. But he kept in contact with Nathaniel Branden, who actively marketed Rand's work and developed an international movement for her philosophy of Objectivism.
Tibor arranged to interview Branden for reason in 1971—a significant journalistic achievement because it was Branden's first public statement after his dramatic split with Rand in 1968. We vigorously promoted the interview, and this led to a major increase in new subscribers for reason.
During that time, no one had any sense of "the libertarian moment." Rather, it wasn't unusual to be referred to as a libertine—and I was once even mistakenly introduced as a librarian.
Tibor, Bob, and I made a unique team. As a philosopher, a systems engineer, and a lawyer, we worked well together from our cross-disciplinary backgrounds.
Tibor was kind and generous of spirit, and he thoroughly enjoyed ideas. He was a prolific writer and an energetic speaker—and although English was not his native language, he was remarkably eloquent. He had an international network of friends, professional colleagues, former students, and admirers—and an exceptional family. He leaves an impressive legacy of work. Tibor's keen mind, his warmth, his passion for ideas and for life, and his friendship will be missed.
Robert W. Poole Jr.
Tibor was born in Budapest in 1939. He was such an individualist that he already loathed Communism as a young teenager. For his own safety, his mother decided to have him smuggled out of Hungary at age 14. Making his way to the United States, he joined the Air Force rather than waiting to be drafted into the Army. There he discovered the novels of Ayn Rand, which led him to attend college at Claremont McKenna College, graduate school at New York University, and finally obtain a Ph.D in philosophy at University of California, Santa Barbara (UCSB) in 1971.
reason founder Lanny Friedlander, for whom I had written an article in late 1969, told me to look up Tibor (who was also writing for reason at the time) when he learned I was about to move to Santa Barbara to take up a new job. Tibor and I became friends, and during 1970 brainstormed the idea of buying reason from Lanny and putting it out on a businesslike basis. I have fond memories of long evenings at Tibor's hillside home, discussing philosophy and imagining what kind of impact a serious libertarian magazine could have. (Yes, in those days a graduate student at UCSB could afford to buy a house in Santa Barbara!)
Tibor had a network of contacts who we hoped would put some money into our startup, and he contacted them while I drafted a business plan. Always entrepreneurial, Tibor obtained a grant to put on a political philosophy conference at the University of Southern California, and the travel budget included funds to fly Lanny from Boston to California so we could negotiate the deal. By that point, Tibor had brought young libertarian attorney Manny Klausner into our fledgling partnership, Reason Enterprises, and Manny worked out all the legal details.
From January 1971 through June 1978 we published every month, like clockwork, but by 1977 it was clear that for reason to have serious impact, we needed full-time paid staff and a serious budget for growth. Tibor, Manny, and I developed the plan for what became Reason Foundation. Thanks to an angel investor, we had enough funds to make the transition, and we opened our doors in downtown Santa Barbara in July 1978.
Tibor was amazingly prolific as a scholar and writer. Among his numerous books were The Libertarian Alternative (1974), Human Rights and Human Liberties (1975), Individuals and their Rights (1989), Capitalism and Individualism (1990), Classical Individualism (1998), and The Promise of Liberty (2009). This is in addition to numerous journal articles and hundreds of popular articles, op-ed pieces, and letters to the editor. I can still recall being at Tibor's house in Santa Barbara and seeing him—in reaction to a news item—dashing to his typewriter to produce a letter or an op-ed piece.
The last time I saw Tibor was at Reason Weekend in Santa Barbara about a year ago. For the Friday night after-dinner event, Editor in Chief Matt Welch interviewed Tibor, Manny, and me on stage, reminiscing about reason's long history. Tibor also devoted several hours to meeting with a board committee to discuss ways of enhancing the moral/philosophical perspectives in Reason Foundation's efforts. I had no idea that would be the last time we saw him. Several months ago we talked by phone, and I told him about early planning for reason's 50th anniversary celebrations in 2018. We joked about him needing to take good care of himself so that he could be part of those events. Sadly, that was not to be.
This article originally appeared in print under the headline "RIP Tibor Machan".