Clinton Calls Trump a Fraud, Gary Johnson 'Knife Sharp,' Water on the Moon Sourced: P.M. Links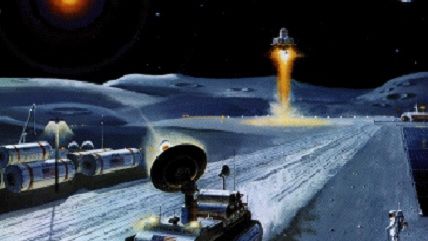 Roger McCall, via NASA

Hillary Clinton called Donald Trump a "fraud" and his Trump University a "scam." Trump is set to visit his golf course in Scotland a day after the United Kingdom votes on whether to stay in the European Union. Gary Johnson says he stopped using marijuana to be "knife sharp."

UCLA went on lockdown during an apparent murder-suicide, but police say the campus is now safe.
An Al-Shabaab suicide car bomber killed at least 10 in a hotel in Mogadishu.
French investigators say they've detected the signal of the EgyptAir Flight 804 black box, coming from the seabed of the Mediterranean.
The new president of the Philippines says some journalists deserve to be shot, because they're corrupt.
Asteroids are the likely source of water on the Moon.