Police Across U.S. Try to Soften Image With Elaborate Dance-Off Videos
Killing fewer unarmed black kids is hard, so cops are taking the "Running Man Challenge."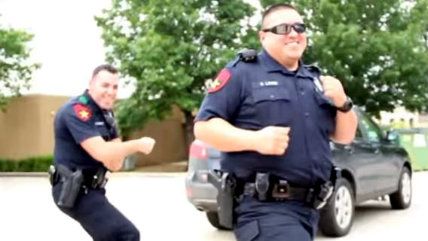 Cops: they like to dance. They know how internet websites work. They're just like us! See? See?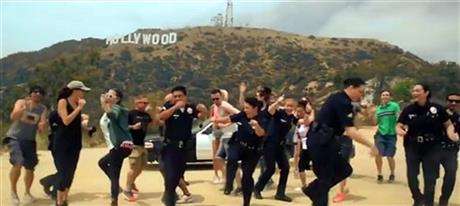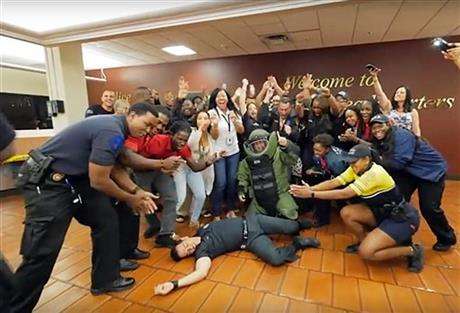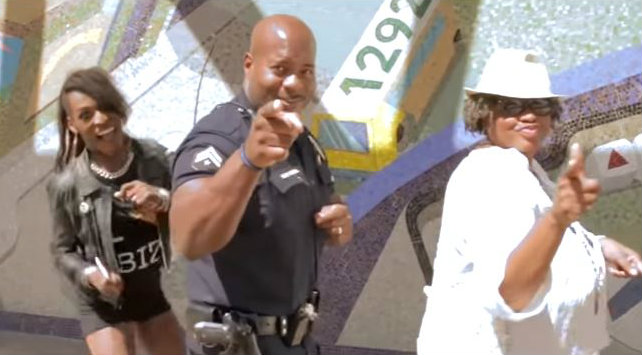 The above images are part of the Los Angeles and Miami police departments' efforts to counter "anti-police rhetoric" and present a kinder, more carefree image of police life. To this effect, "police officers across the U.S. are dancing an updated version of the running man to a catchy 1990s hip hop song in videos that have included professional sports mascots, cheerleading squads and at least one explosion," the Associated Press reports. The videos, set to the song "My Boo," started in early may after cops in New Zealand issued the "Running Man Challenge" to officers with the New York Police Department.
If police want to challenge each other to dance-offs in their spare time, that's none of my business. But considering that most cops don't have personal access to cheerleading squads and explosives, it looks like departments are spending municipal money (and time) on these ploys to drum up good PR for themselves. The AP reports that law enforcement's please-go-viral videos "have been steadily getting more elaborate."
Detroit cops even made good use of a heavy-duty SWAT truck in their video. Police militarization as clickbait! All the cool cops are doing it!
Robert Thompson, a pop culture professor at Syracuse University, said the videos were no doubt a "rhetorical act of public relations"—like a "Coca Cola ad" or a "propaganda film."
"The videos are about more than officers cutting loose," the AP article assures us.
They come as police departments across the U.S. are facing increased scrutiny and public criticism in the wake of a series of officer-involved deaths of young, unarmed black people.

Many departments have been working to become more community-friendly and improve their image. That includes turning to the power of social media.

"Across this nation, there's a lot of anti-police rhetoric," Detroit police Chief James Craig told AP. "Do you believe this might have a profound impact on reducing that? I mean, you talk about how many shares so far? People like it, they appreciate it, and this is a move in the right direction."
Yeah, or maybe American police could just kill less unarmed black people? I mean, among other things, but that would be a start. Maybe cops could even start issuing each other a new "running man challenge": Can the department go a whole year without fatally shooting anyone in the back for trying to flee? Zany! Fun! Or, at the very least, less socipathic seeming than the current PR attempts. And something tells me that fewer "officer involved shootings," sex-worker rapes, and other abuses of power would go a lot further toward improving law enforcement's image than videos of cops jumping smiling out of SWAT vehicles.