Inspector General Report Makes Clear That Hillary Clinton's State Department Email System Broke Government Rules
Clinton's campaign insists that her exclusive reliance on a private email server was allowed. It wasn't.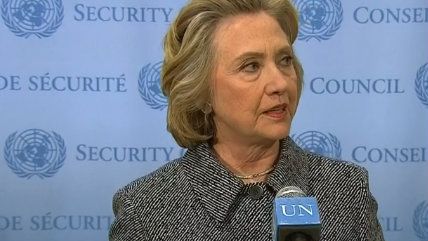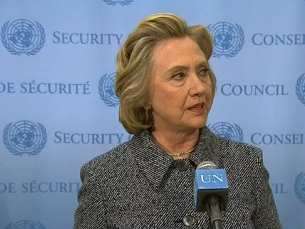 Throughout her presidential campaign, Hillary Clinton has consistently maintained that her decision to exclusively use a privately run email server during her tenure as Secretary of State, and then to hand over a selection of emails long after leaving office, was fully allowed and consistent with both the law and State Department policy.
Even today, her campaign website states flatly that it was accpetable, and that "the laws, regulations, and State Department policy in place during her tenure permitted her to use a non-government email for work." At times, Clinton has even gone further, declaring that she went "above and beyond" her official duties and requirements in turning over her emails.
This has always been a dubious assertion. As Politico reported in March of last year, shortly after news of Clinton's email setup first broke, the State Department has clear rules that prohibit staffers from relying exclusively on their personal accounts for government business, in order to ensure both the security of high level government communications and public transparency and accountability.
A report from a non-partisan government watchdog today confirms that Clinton's behavior was not allowed under agency rules, and, perhaps more damningly, that Clinton does not appear to have made any effort to ensure that she was in compliance with government email policies.
The Office of the Inspector General (OIG) for the Statement Department reports that although Clinton had an "obligation" to discuss her decision to use a personal email account with Diplomatic Security officials, but the OIG could find no evidence that she requested any guidance or approval. And if she had asked for approval, the report says, permission would have been denied on the grounds that her usage violated agency guidelines and would have posed "security risks." The report also notes that "Secretary Clinton never demonstrated to them that her private server or mobile device met minimum information security requirements" laid out in agency guidelines.
In addition, the report faults Clinton for failing to turn over records until long after leaving office. "Sending emails from a personal account to other employees at their Department accounts is not an appropriate method of preserving any such emails that would constitute a Federal record," the report says.
And her after-the-fact compliance—she left office in early 2013 and did not turn over any of her emails until late 2014—was a clear violation of department rules. "At a minimum, Secretary Clinton should have surrendered all emails dealing with Department business before leaving government service and, because she did not do so, she did not comply with the Department's policies that were implemented in accordance with the Federal Records Act."
It's not as if no one was aware of Clinton's email setup and the problems it might cause. The report highlights a number of discussions within the State Department about her email situation, including one in which Clinton declines to be integrated into the department's in-house email system in order to avoid "any risk of the personal being accessible."
What the report makes clear, then, is that contrary to what her campaign says, her email practices were both risky and not allowed by State Department guidelines. Indeed, Clinton appears to have made no significant attempt to hold the sort of conversations that might have led to compliance with those guidelines, and she resisted efforts to move any part of her communications into the official system.
Overall, the report comes across as sharply critical of Clinton. It makes clear that she refused to play by the rules while acting as Secretary of State—ignoring them as a point of personal privilege, and creating both security vulnerabilities and transparency and accountability problems in the process.
And then, while running for president, she falsely insisted that she'd done all that was required of her. So she didn't just break the rules; she refused to admit that she had done so, and pretended that she'd gone the extra mile to ensure compliance.
That's a troubling story to hear about any former public servant—and it's even more worrying when that person is seeking even more power and authority.