New Trump Ad Attacks Hillary Clinton for Her Husband's Alleged Sex Crimes
"Here we go again" is right...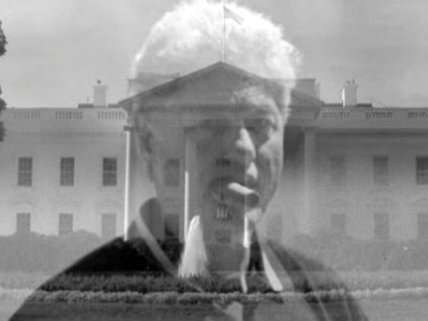 Crime bills and welfare and presidential penis, oh my… If you're looking forward to relitigating the 1990s in the court of public opinion, has America got an election for you!
Welfare reform was the great rehash of the weekend, with a fight between lefty blogger Matt Bruenig and Center for American Progress president Neera Tanden over Bill Clinton's welfare policies—and how much blame to place on Hillary Clinton, and by extension all of her supporters, for them—devolving into a heated, internecine battle between Sen. Bernie Sanders fans and Team Hillary. (If you should care to learn more—though I advise against it unless you're feeling a bit low on insufferable internet narcissists this week—Vox offers a pretty clear and concise summary of "Bruenighazi.")
Then, on Monday, Donald Trump released a campaign ad dredging up old accusations of sexual assault against Bill Clinton. The short, black-and-white ad opens with an image of the former president with a cigar in his mouth superimposed over an image of the White House as various female voices describe being assaulted. The most graphic description comes from a recording of Juanita Broaddrick, the former Arkansas nursing-home administrator who, in 1999, accused Clinton of raping her during his 1978 gubernatorial campaign.
The ad—which Trump released on Instagram with the caption "Is Hillary really protecting women?"—features only one more image: a photo of Bill and Hillary Clinton together under the caption "Here we go again?" Broaddrick's testimony fades out as someone (presumably Hillary) lets out the loudest, most cackle-like laugh imaginable. The screen then flashes the word Trump above the message "Make America Great Again!"
Subtle it is not. Effective? That probably depends on how you feel about (either or both of) the Clintons to begin with. But I think it's safe to see this short ad as a trailer for a longer line of attack coming soon.
Last Wednesday, Trump brought up the sexual assault allegations against Bill Clinton during a Fox News interview with Sean Hannity. Earlier in the month, at a campaign stop in Washington, Trump said that Clinton was "married to a man who was the worst abuser of women in the history of politics."