Audit the Fed Bill Passes Committee
Headed to House floor for eventual debate and vote.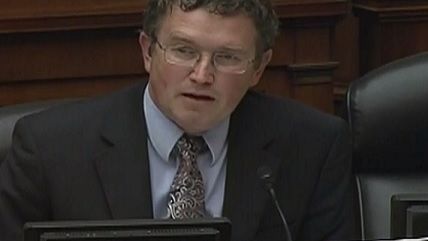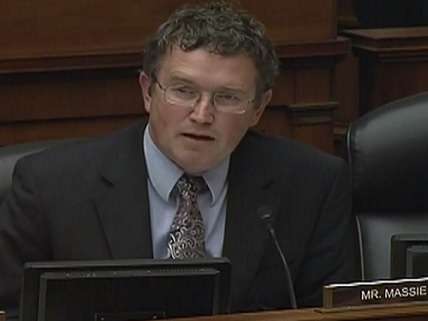 The House Oversight Committee passed the Federal Reserve Transparency Act (H.R. 24) sponsored by Rep. Thomas Massie (R-Ky.) yesterday, setting the bill up for an eventual vote on the House floor.
The bill, which was introduced in January 2015, would change the rules under which the Federal Reserve is audited. Current law exempts from audit transactions with foreign central banks and foreign governments, actions surrounding monetary policy matters, transactions made under the direction of the Federal Open Market Committee (the FOMC, which sets interest rates), as well as communication by Federal Reserve board members, officers, and other employees about such exempt transactions and actions.
Massie called the current audits "perfunctory" and "cursory" in a committee debate on the bill, saying lifting the restrictions would allow for a "systematic" audit. The Federal Reserve Transparency Act would also require the Comptroller General of the United States to conduct an audit within a year of the bill's passage and to report on that audit to Congress.
"The Federal Reserve should not keep secrets from Congress," Massie said in a statement. "Ironically, the people who argue against an audit make the case for an audit by saying that transparency may affect the way the Fed operates." Critics of the "audit the Fed" movement insist the current limited audits is enough and that the restrictions H.R. 24 would expose the Federal Reserve to Congressional pressure. "Congress created the Federal Reserve, so it is Congress' responsibility to audit the Federal Reserve. Americans want and deserve more transparency," Massie said in his statement.
The current restrictions were imposed in the 1970s through the Federal Banking Agency Audit Act, after members of Congress tried to get audits of the Federal Reserve, which the Fed lobbied heavily against. In 1995, the FOMC voted to destroy nearly two decades-worth of its transcripts.
The Senate version of the Federal Reserve Transparency Act was introduced by Sen. Rand Paul (R-Ky.) last November. The Senate voted 53-44 on S. 2232, failing to reach the 60 votes needed for cloture.
A similar bill in the previous congressional session got out of the House Oversight Committee July 2014, and passed the House 333-92 six weeks later (including the four-week summer recess), with all but one Republican (the now ex-Rep. John Campbell of California) voting yes, and Democrats split 106-91 in favor. It died in the Senate. A version of the bill in the Congress before that, also passed by a large, bipartisan margin, as Massie noted in the committee debate.
There's no timeframe on a vote for H.R. 24 by the full House yet.