Woody Allen Defends Nasty Jokes, Even Made at His Own Expense
"I am completely in favor of comedians making any jokes they want," says Allen after being the target of a child-molesting jab at Cannes.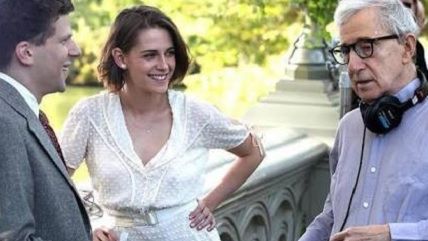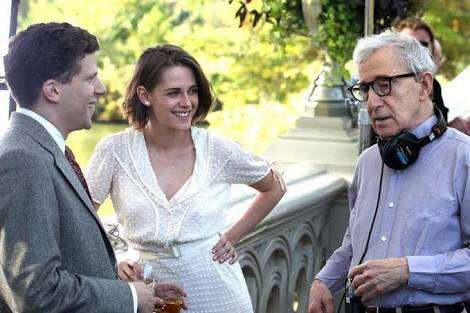 Another spring, another film festival in Cannes.
And another Woody Allen movie, too, this one called Cafe Society and starring Kristen Stewart, Jesse Eisenberg, Blake Lively, and Corey Stoll.
And another joke made about the 80-year-old Allen's sex life, this time by the master of ceremonies during the big opening of the festival.
The emcee welcomed Allen thus:
"It's very nice that you've been shooting so many movies in Europe, even if you are not being convicted for rape in the U.S.," said master of ceremonies Laurent Lafitte.
That's a reference to accusations that Allen molested his daughter, Dylan, whom he fathered with his ex-partner, the actress and activist Mia Farrow. The joke also references Roman Polanski's self-imposed exile from America after pleading guilty to a sex crime in 1978 (more on that in a moment).
On the eve of Cannes' opening last week, another of Allen's children, former MSNBC host Ronan, wrote in The Hollywood Reporter about how his father has not only gotten away with raping his sister, but has flourished professionally:
Amazon paid millions to work with Woody Allen, bankrolling a new series and film. Actors, including some I admire greatly, continue to line up to star in his movies. "It's not personal," one once told me. But it hurts my sister every time one of her heroes like Louis C.K., or a star her age, like Miley Cyrus, works with Woody Allen. Personal is exactly what it is — for my sister, and for women everywhere with allegations of sexual assault that have never been vindicated by a conviction.
In early 2014, Dylan Farrow wrote a piece about her experiences that Nicholas Kristof posted at his New York Times blog (Kristof wrote a column about the charges, too). Allen responded to those pieces with his own New York Times op-ed that cites court documents and personal testimony to argue (convincingly, in my view) that Mia Farrow persuaded Dylan and Ronan to believe their father molested his daughter after the director's relationship with Soon-Yi Previn became known.
And what about Roman Polanski, the Polish-born director who was under house arrest in Switzerland for 10 months in 2009 and 2010 after being arrested at the request of U.S. authorities while visting Switzerland for a film festival? It seemed likely that Polanski would be extradited to the United States for sentencing in a 1978 case in which the moviemaker had pleaded guilty to "unlawful sex with a minor." Polanski left the United States rather than face the possibility of jail time, choosing to live mostly in France, which generally doesn't extradite residents for such charges. (For those who only know about the case from the pro-Polanski 2008 documentary Roman Polanski: Wanted and Desired, I recommend reading this masterful review by Bill Wyman at Salon.)
I no longer care much for Woody Allen's movies (yes, I'm one of those unbearable fans he slagged way back in Stardust Memories [1980] for preferring his early comedies to his "mature" films), but I was very much taken with his free-speech attitude toward Lafitte's joke:
"I am completely in favor of comedians making any jokes they want," Allen said to a question asked by Variety. "I am a non-judgmental or [non]-censorship person on jokes. I'm a comic myself and I feel they should be free to make whatever jokes they want."
Independent of everything else, that strikes me as exactly the proper response, not simply for an artist (or a college faculty member!) but for anyone who believes in freedom of speech and an open society.
In 2010, during an event at Manhattan's The Box celebrating the dismissal of federal obscenity charges against adult filmmaker John Stagliano, Reason asked attendees ranging from Andrew Breitbart to Gov. Gary Johnson to CNN's S.E. Cupp, "What's the biggest threat to free speech?" Here's what they said: