Hillary Clinton Doubles Down on Goldman Sachs
The Clinton campaign has been using former Goldman Sachs advisor Gene Sperling to criticize Donald Trump.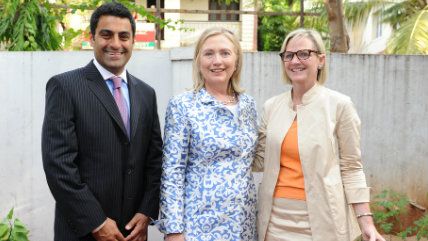 (US Consulate Chennai/Flickr)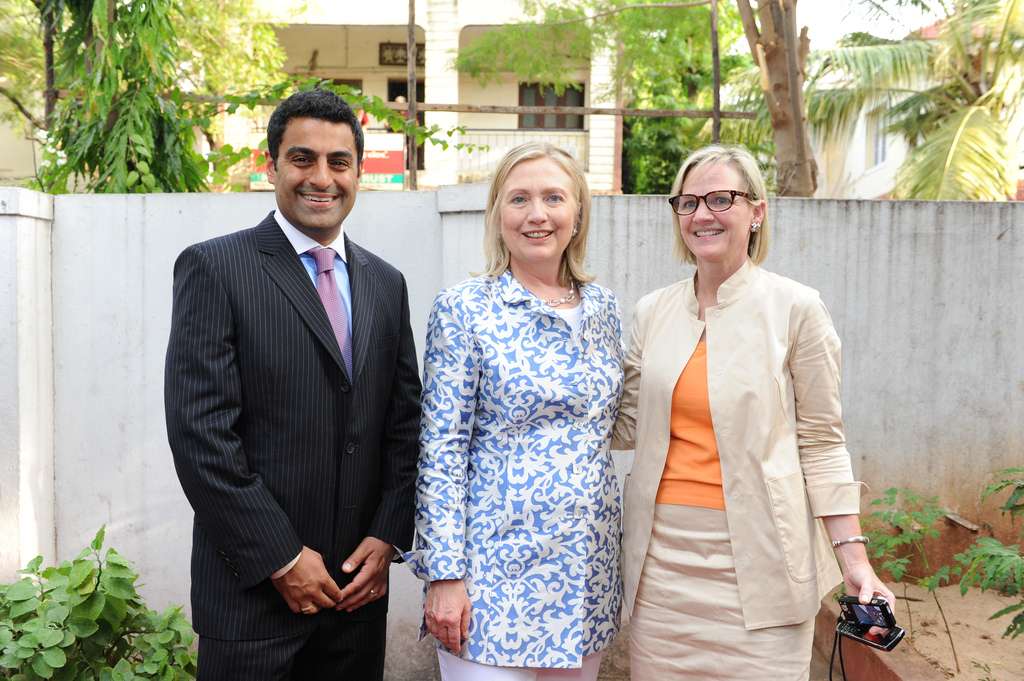 Hillary Clinton is heading into the general election with a strong signal that she won't be put off by Sen. Bernie Sanders' attacks on her hundreds of thousands of dollars in fees for secret speeches to Goldman Sachs. She's upping the ante by deploying, as her top economic spokesman, Gene Sperling, a man who was reportedly paid $887,727 by Goldman Sachs in 2008, purportedly for advising on the firm's charitable giving.
Clinton's campaign has issued no less than five press releases or advisories this month giving headline treatment to Sperling. The campaign identified him as a former top economic aide in the presidencies of Bill Clinton and Barack Obama, but it made no mention of his Goldman Sachs connection.
The Clinton campaign has been using Sperling as a critic of the likely Republican presidential candidate, Donald Trump. "Statement from Gene Sperling on Donald Trump's Risky Suggestion He Would Consider Defaulting on the National Debt as President," was the headline on one Hillary Clinton press release.
The higher profile for Sperling came alongside a New York Times report about losses at a hedge fund operated by Clinton's son-in-law, Marc Mezvinsky. The Times reported that "some of the firm's earliest investors were Goldman partners, including Lloyd C. Blankfein, Goldman's chief executive officer, who let Eaglevale use his name in marketing the flagship fund."
At a moment when the press is agitating for the release of Donald Trump's tax returns, there seems to be far less pressure, aside from the Sanders campaign, for the release of tapes or transcripts of Clinton's closed-door, highly paid speeches to Goldman Sachs. Nor does there seem to be much pressure for disclosure of how much money Blankfein put into Mezvinsky's hedge fund, how the investment has performed, and how much in fees the investment has generated for Mezvinsky.
The Washington Free Beacon points out that the ties don't stop there; Goldman Sachs is a donor to the Clinton Foundation, and the CEO of the Clinton Global Initiative, Robert Harrison, is a former Goldman Sachs partner.
Clinton's readiness to place Sperling front and center might have seemed unremarkable a decade ago, when former Goldman Sachs executives such as Jon Corzine and Robert Rubin were vocal and prominent participants in economic policy debates. But after the 2008 financial crisis, the firm's reputation—and that of Wall Street in general—took a turn for the toxic. It got to the point where, in early 2015, Sen. Elizabeth Warren (D-Massachusetts) successfully blocked President Obama's nomination of a Lazard banker, Antonio Weiss, to a post at the Treasury Department.
Though tying Hillary Clinton to Goldman Sachs doesn't yet seem to have been sufficient to win Sen. Sanders the Democratic presidential nomination, I doubt we've seen the last of the issue. Trump can use it to deflect any attempts by Clinton or her allies to depict him as a billionaire plutocrat who is out of touch with the realities of working Americans. Oh yeah? The Clintons and their pals earn hundreds of thousands of dollars from Goldman Sachs for part time work.
The situation is also likely to stoke cynicism, as Clinton campaigns promising to "rein in Wall Street" while she and her team have collected so much money from Goldman.
To those of us who believe in free enterprise and who don't believe that all banks and bankers are bad guys, the Clinton-Goldman connection might be imagined, at best, to be somewhat reassuring, like her ties to Walmart. At least Clinton thinks of Blankfein and his colleagues as real people rather than as demonic caricatures.
If Clinton does manage to get herself elected president and Sperling winds up back in some senior administration position, Blankfein and Goldman's lobbyists may be all that protects Wall Street or American capital markets from an Elizabeth Warren-style or Bernie Sanders-style assault. At least Clinton may admire the self-interest and survival instinct of the firm and its executives. Those, after all, are two traits where the former first lady turned senator and secretary of state is no slouch herself.