Clinton Will Put Husband in Charge of Economy, Factories Seized in Venezuela, Cake Hoaxer Drops Suit: P.M. Links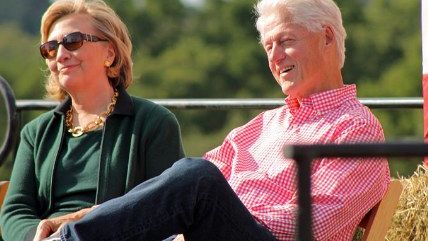 (Karen Smith Murphy / photo on flickr)
Credit: Karen Smith Murphy / photo on flickr

Hillary Clinton says she's going to put her husband, former President Bill Clinton, "in charge of revitalizing the economy."

One of the ladies in The New York Times story on Donald Trump's treatment of women disputes the story's characterization of how she was treated and says she didn't feel demeaned.
Venezuelan President Nicolas Maduro put out an emergency decree ordering the seizure of closed factories and the arrest of their owners. He has, of course, blamed the United States for the country's economic collapse.
The Supreme Court has sent a case about the legality of the Obamacare contraception mandate back to a lower court in hopes of reaching some sort of compromise.
The Texas pastor who claimed a baker at Whole Foods put an anti-gay slur on his cake with icing, has dropped his suit and apologized after it was revealed as a hoax. He said the retailer did nothing wrong. Whole Foods has dropped its countersuit.
Troubled pop singer Sinead O'Connor was reported missing and possibly suicidal after failing to return from a bicycle ride in Chicago. She's since been found.
Follow us on Facebook and Twitter, and don't forget to sign up for Reason's daily updates for more content.